New Zealand Welcomes the Jeep Renegade
The people of New Zealand recently welcomed the Jeep Renegade to their country. Thanks to the people of stuff.co.nz, we got to see the
New Zealander's take on the Italian made Jeep in this post
. While Americans and Australians are given different engine options, the people of NZ have been given one option-- the 2.4L Tigershark engine-- the biggest available for the Renegade. Having only the one option is saving New Zealanders money at Jeep dealerships. That being said, the only Renegade trim available there is the Trailhawk edition. The original article references comparable vehicles with lower price tags, like the Mazda CX-3 and the Mini Cooper Countryman.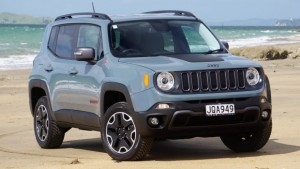 The test concluded that the Renegade is certainly nice to handle on road and when parking, even "surprising-and-delightful." There's nothing but merits regarding its interior amenities like the touch screen UConnect and cabin space. Curiously enough, there wasn't an actual off-road segment relaying it's performance over the hilly and mountainous New Zealand terrain. While they do comment remark about the premium price tag ($49,990NZ), they say it's a premium crossover SUV. See how the Renegade fared in the subcompact SUV competition portion of
How Jeep Stacks Up.
What do you think of New Zealand's assessment of the Jeep Renegade? Tell us your thoughts!
Join Us!
Read More: