It's a common question among Jeepers old and new: what are the best Jeep tires?
Well we need to know a few things first, such as whether they are going to be daily drivers or more off-roading Jeep tires? Are they strictly mud or all-terrain Jeep tires? Then again many just want to know what Jeep tires some of our other Customers are using on their rigs. While we carry a wide range of tires from many manufactures, there are some popular ones that rise to the top. Tires we sell over and over that Customers love to use and that work best. If you want to find the right tire for your ride, follow this guide as we explore the top 5 Jeep tire brands in our catalog. Let's take a look at some of those hot choices for off road tires!
What You Need to Know About Your Jeep Tires
Since tires are sold by size, that means there are many choices, depending on your Jeep modifications, such as a lift kit. If you already know the tire size you need (and your rim size) , then it's just a matter of choosing among dozens of tire brands and tire designs to get what you need. Certain tires are popular for a variety of reasons. Name brand is one, but all our tires are top name brands, so that's just part of the factor. Other reasons are certain sizes and types of tires are well know to work in certain conditions, such as trailing, rock climbing, or bad weather conditions, such as mud, sleet, snow, etc. Jeep owners share a lot of information between each other, and if a certain tire works well, the word gets out. So the tires we mention here are not just top sellers for us, they are the most popular and most often used by Jeep owners.  We've shipped thousands of tires over the years, and these are just some of the ones Customers choose over any others. Their popular choices can help you in picking the tire that works well for you.
Best Jeep Tires from Goodyear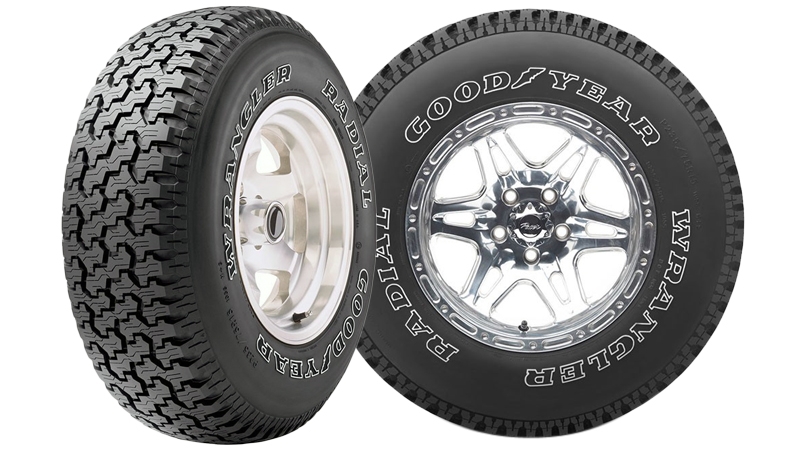 Goodyear makes a variety of tire designs, and sizes, from "stock" to serious off roading. Obviously the Goodyear "Wrangler" name is probably the most well known. If you drive your Jeep on road most of the time, but do go offroad some on the weekends let's say, you'll only be using a radial tire that's a little bit of both: highway and offroad. The Wrangler Radials are good for that, and we sell those just as much as the larger 4x4 tires. The popular Goodyear Wrangler Radial is the GT-795698918. It's a 30" tire for a 15" rim. The Goodyear Duratrac tires have a more aggressive tread pattern than a stock Wrangler Radial type tire. For offroading, it has some unique features, such as Kevlar reinforced sidewalls (to help resist punctures) and an advanced Silica Rubber compound. The size range from 31" to 42". Popular
Goodyear Duratrac sizes include the GT-312031142
(34"),
GT-312008027
(29"),
GT-312007027
(31"),
GT-312012142
(33"),
GT-312015027
(33"),
GT-312019027
(32"), and others.
Best Jeep Tires from Mickey Thompson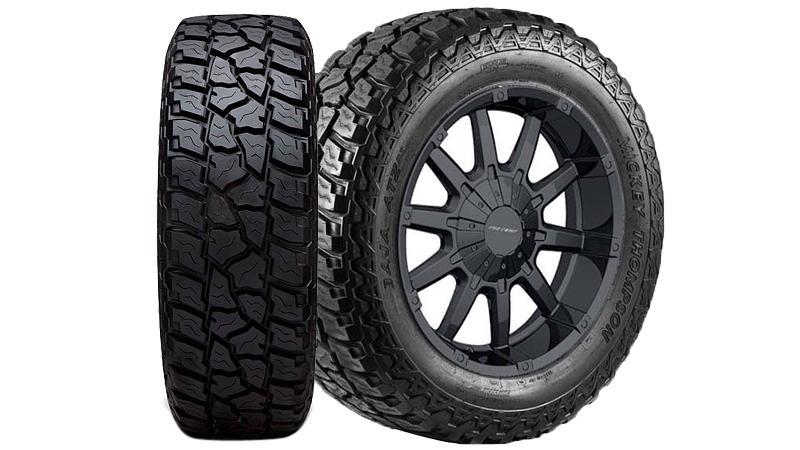 The name Mickey Thompson is well known in the off roading racing world. So it's no wonder they offer great tires with a lot of years of testing and design features to get you just about anywhere you want to go. Their most popular tire is the
Baja ATZ-P3 series
, such as the
MT-90000001940
. These have an aggressive bite tread pattern, but also have a compound that has improved cut and chip protection. The sidewall construction has their PowerPly 3-ply feature as well. They are available from 33" to 35".  The
Mickey Thompson MT-90000001919
, which is a 33"  tire, is a hot choice as well. The second most popular
Mickey Thompson series are the Baja MTZs
. These are a radial tire, so they are at home on the street as much as they are off road. They can offer you higher mileage out of the tire than most other brands and types. The deep treads are great for traction, but are self cleaning for those mud and snow conditions. Even the sidewalls have some traction features. Popular Mickey Thompson MTZ Tires are MT5273 (33"),
MT5262
(32"),
MT5265
(33"), MT5273 (33"), and the MT5253 (33"). The Mickey Thompson ATZ Radials are a popular choice with Customers, as these are a good compromise between a tire that can get you offroad, but still work well on the highway. They have a high load rating (if you tow with your Jeep), a tread design that works well in ice and snow, and a solid center rib for better handling. Popular sizes are: MT5329 (35"), and MT5374 (33").
Best Jeep Tires from BF Goodrich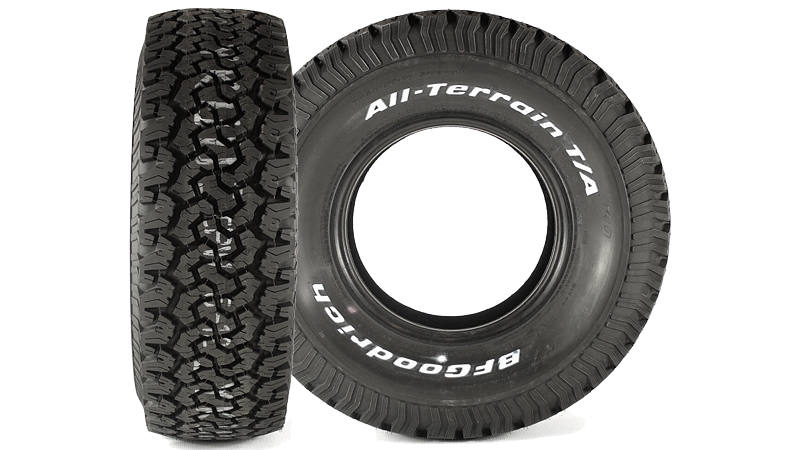 BF Goodrich needs no introduction, as one of the most well known tire brands. While they make tires for almost any kind of vehicle, their off road tire line are a popular choice with our Customers. The
BF Goodrich All Terrain T/A KO tires
are top dogs as far as sales. It's not surprising: you get 40% wider shoulder grooves, Polyester guards against punctures and bruises, increased tread life, and high strength strand bead construction. There are a lot of sizes to choose from as well, from 31" to 35". Popular BF Goodrich All Terrain T/A KO tires are BFG-61107 (32"), BFG-61107 (32"),
BFG-27025
(32"), and the BFG-12665 (31.6"). If you're a diehard off roader and want to hit the trails hard, the
BF Goodrich Mud Terrain T/A KM2
is what you're looking for. The most popular one we sell for those is the
BFG-38371
, which is a 35" tire. This tire design features linear flex zones that allow the tire to conform and grab obstacles. As well as symmetric designed deep, self-cleaning independent tread blocks.
Best Jeep Tires from NITTO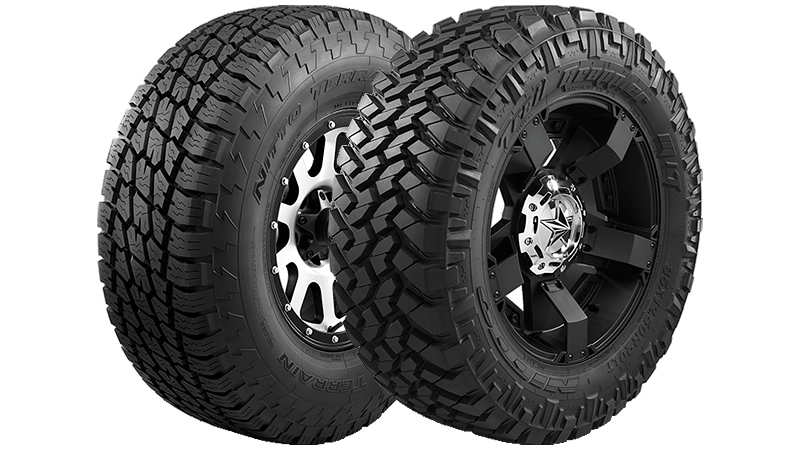 Nitto Tires comes to mind when you think race cars, or drifters, or European cars. But they offer some knarly off road tires as well for the 4x4 market. Their Grappler series run from mild to wild as far as tread patterns and gripping power. The
Nitto Terra Grapplers
is their most versatile tire. It can run just was well on the highway or the offroad trails. They feature Staggered shoulder lugs to ensure traction in deep sand, loose gravel, and mud The dual full-width steel belts ensure optimum contact patch on and off road. Their high-density siping is optimized to resist hydroplaning and increase traction in wet or snow conditions. The most popular
Terra Grapplers are the NT-200490
(35"),
NT-201080
(33"), and the NT-200410 (285/60R18).
Nitto Trail Grapplers
are used a lot as well by our Customers. They feature tread blocks that are configured to provide additional biting edges for lateral stability and enhanced forward traction. The tires have two wide steel belts provide a stable base for the tire and increase tread strength. They still have an aggressive tire pattern to get the job done off road too. Popular Nitto Trail Grabbers are: NT-205730 (35"),
NT-205700
(35"),
NT-205740
(33"),
NT-205720
(35"),
NT-205730
(35"), and others. The
Nitto Mud Grapplers tires
provide reliable off-road traction over various terrains, whether it's dirt, rocks or mud. The side lugs provide superb sidewall puncture resistance and exceptional traction. These are Nitto's most aggressive bite tires. The most popular size is the
Nitto NT-200540, which is a 37" tire
.
Best Jeep Tires from Toyo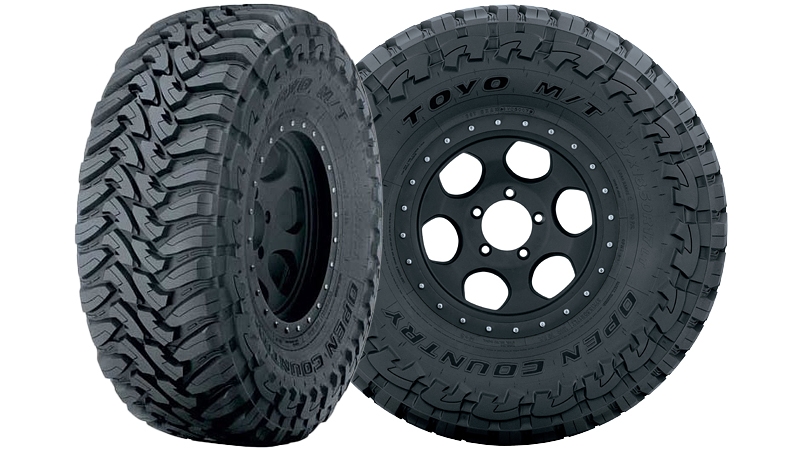 Toyo Tires offers a couple of types of tires. Their
Open Country M/T tires
are the most popular ones. These Toyo tires are designed to help Jeeps work hard on pavement, then work just as hard when roads are muddy, snowy, and rocky or when there are no roads at all. They feature an aggressive, attack tread design with hook shaped blocks that deliver excellent off-road traction and great on-road performance. The over-the-shoulder tread provides additional forward traction in deep mud and snow. Deep Siping in the tread blocks help maintain your grip on wet surfaces. The best Toyo Open Country M/T Mud Tires are: TOY-360270 (37"),
TOY-360450
(31"),
TOY-360270
(37"),
TOY-360510
(35"),
TOY-360340
(33"), and the
TOY-360240
(35").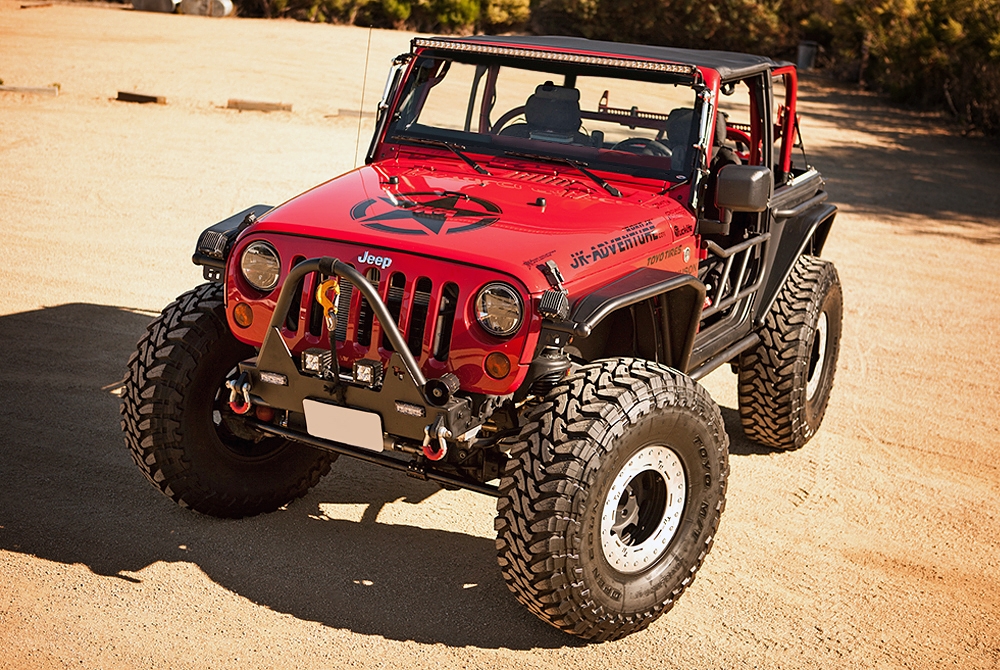 As you can see, there are a lot of popular tires for Jeeps. These are just the tip of the iceberg, and the top choices by our Customers. We carry many others, but these options may help you sort through the various tires and help you get a great tire the first time out. Of course, here at the Morris 4x4 Center, you can bet we try to get you the best prices and deals, no matter what tire you choose! You can find more information and have a look at all the options available by visiting
Jeep tires
. See ya on the trails!