Product Overview Full Traction Long Arm Suspension with CRC Link
Here at Morris 4x4 Center we carry Full-Traction Suspension parts and lift kits for Jeeps. Full-Traction is an industry leader when it comes to suspension lift kit systems and components. Full-Traction has engineered suspension parts using quality laser crafted components, making them one of the best on the market. Looking for a Long Arm Suspension Kit for your Jeep Wrangler? Look no further than the Full-Traction 4'' Ultimate Suspension Lift System. As you can see from our video, when this kit is combined with the CRC conversion link, your Jeep turns into an unstoppable offroading machine!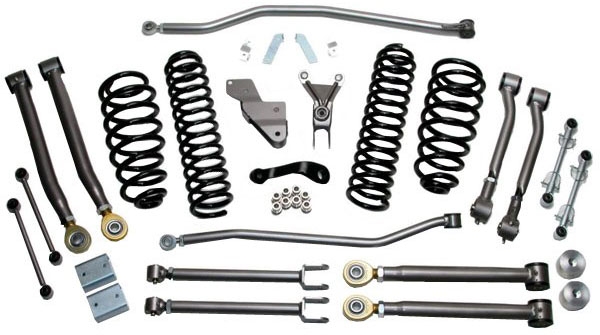 The new CRC Link (Constant Roll Center). It's Full-Traction's off road adaptation for the Jeep Wrangler JK. Nothing comes even close to it's innovation and design. The CRC Link works with all brands of aftermarket lifts to + 4"- 6" over stock height. It completely nullifies the constant high/low roll center debate by applying superior design to eliminate the problem. This system upgrade can't be topped for correct geometry, handling on and off road, and improved strength.