If you own a Jeep with a soft top, especially if you're new to owning a Jeep, you probably think you can only get a soft top like your old one from a dealership. But that's not really the case. We carry several brands of soft tops for JK Wranglers and other Jeep models. Today, we are talking about a trusted brand and manufacturer of automotive parts and accessories-- Mopar.
FCA Original Equipment Manufacturer Mopar
Here at Morris 4x4 Center, we carry
Mopar parts for Jeeps
. What does that mean? Mopar is the name, or brand, of parts that are made by Chrysler (you know, the folks who own the Jeep brand and make Jeeps). Mopar stands for
MO
tor
PAR
ts. So when you see the word Mopar, you know it's a factory part, and the same as you would buy at a Jeep dealership. But what else does it mean? It means you can save some coin by passing up the dealership and getting your Mopar parts from us! But it also means that a Mopar part is like your old part. Let's take your factory soft top for instance. It came with your Jeep, right from the assembly line, so naturally it's going to fit, and fit right. You probably never gave it much thought over the years. But now a decade later, it's time for a new soft top, and you have to choose. You like to use factory or stock parts when you can, so what are your choices?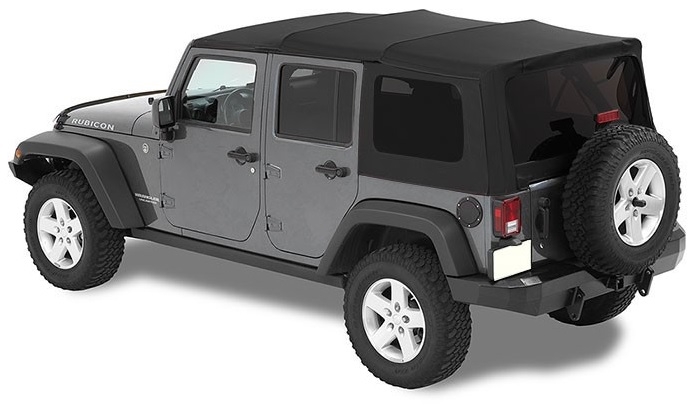 Mopar Soft Tops for JK Wranglers
If you're driving a JK Wrangler Jeep, you actually get a couple of choices for your ride. The Mopar soft tops
feature a Sunrider
flip back portion over the front seats. Great for catching some fresh air and getting a tan during the summer. The tops feature options, from materials such as standard Black Fabric to Premium Acrylic Fabrics. Note that you can even get Privacy Tinted Windows on some models.
Mopar Soft Tops for TJ and TJL Wranglers
Let's not forget
tops for the Jeep TJ Wranglers
. Mopar has you covered, literally, with tops that have the same great features as the JK models. Tinted windows, Black, and even Khaki colored tops. So now you can get that factory fit and finish on a top that's good for many years like the original one.
Looking to keep your Jeep rolling with all OEM Jeep parts?