Rugged Ridge Jeep Wrangler Expo Top Spartan Grille
Rugged Ridge
, a leader in the Jeep accessories arena, has just released some new products for your Jeep JK Wrangler. Of course, they're both good looking and functional at the same time. First up is their new
Exo-Top Rack System
.  Wow, where to begin? More and more Jeeps are not just hitting the trails, but their drivers are enjoying the great outdoors more and more. With biking, kayaks, canoes, skiing, and many other ways to get involved with nature. Typically these types of gear are stored on top, when it's possible. You would be surprised the calls we get over and over on the best ways or products to get that bicycle or kayak to the mountains on a Jeep. Many times the products aren't available, or the solutions that do appear are really not the best option. Not anymore. Rugged Ridge has covered all the bases with his new Exo Top Roof Rack System. https://youtu.be/jGW1X72bBs4 First of all, you don't have to remove the soft top to take advantage of it's capabilities. The soft top is designed to be part of the rack system, so it's fully functional at all times. You can lower it, raise it, or remove it. While the roof rack stays in place on your Jeep. The rear side windows and back window can be removed or opened quickly using zippers. The Sun-Slider up front allows you to slide back the retractable slider with the simple release of two latches. Within seconds, you can have the fresh air and blue sky over your head. The soft top fastens with easy to use Velcro straps along the perimeter of the roof rack's bars, so it's very versatile to your driving needs. It's easy to install and easy to remove from the rack itself at any time. So you not only get a great soft top, you get a rack that's made to carry the gear you love so you can experience the beach or mountain trails. The rack itself has a 300 lb capacity. You also don't have to drill any holes to install it: it's a bolt on accessory! The Rugged Ridge Exo Top Rack System is the new hot product for Jeeps. It's a two for one for the real outdoor enthusiast who needs a soft top and a rack, but not the headaches associated with combining the two. Rugged Ridge has you covered with a high quality product that's easy to use so you can spend more time enjoying the outdoors and not messing with your soft top.

The second great new products from
Rugged Ridge is their Spartan Grille.
Not only can you upgrade the looks of your Jeep with an all new style, it's fully functional. The larger center opening allows more air through the radiator. This gives you better air flow and cooling. This can be an important issue if you're rock crawling or trailing at lower speeds. Of course, more air also allows your AC condenser to get more fresh air as well. As a bonus, the grille steel inserts can be customized because they're interchangeable with different designs (sold separately). The outside grille is made from a durable injection molded material which you can paint to match your Jeep (or leave it black for that aggressive look).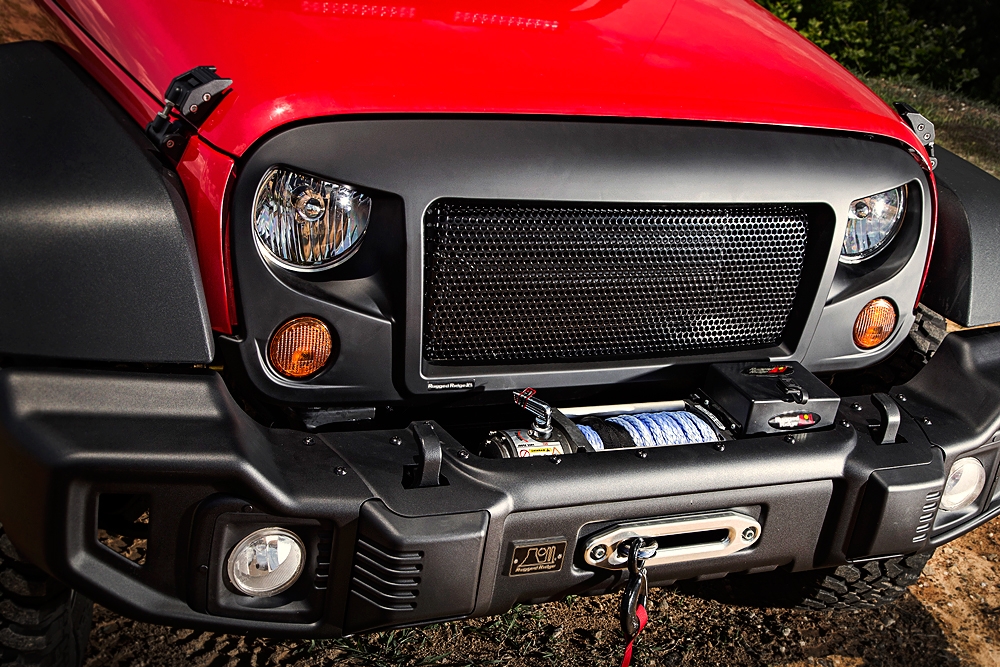 As you can see, Rugged Ridge keeps making the parts every Jeep owner can use to make their Jeep unique and ready for the trails at any time. At Morris 4x4 Center, we bring you the latest products at the best prices. It's never been easier to get new the Rugged Ridge products to your door! See ya on the trails!