Rumor Has it Jeep Will Make a Wrangler-based Pickup in Toledo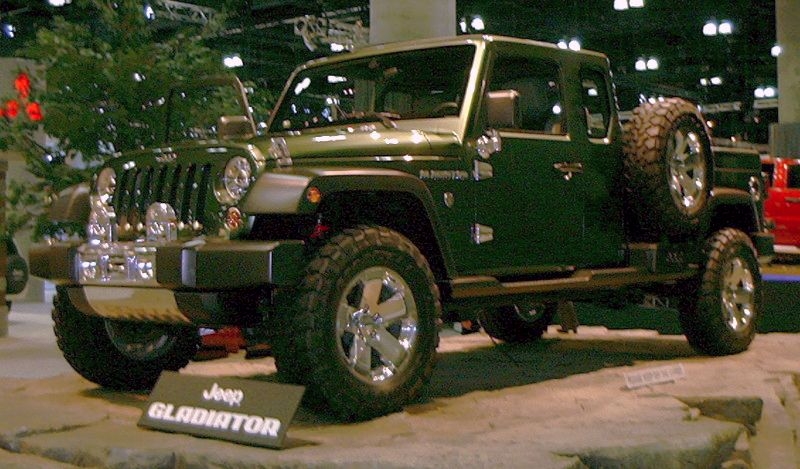 You can never have enough Jeep rumors, right? We're going full circle now, as we may have covered this before, but let's set it on fire once again. Of course, you can't stamp out a good story, and the more we wish for cool Jeep stuff, maybe, possibly, the more likely we will see it come true. Jeep might be bringing back the Pickups ! There's no doubt that the Jeep pickup trucks are sorely missed. They had great body lines (even though they copied or mimicked it's brother, the Cherokee ... or was it the other way around?), and had a good reputation as being just as hardy and useful as their smaller Jeep CJ cousins. Jeep went with the trucks beginning way back in 1962. The resembled a
Wagoneer SJ
in front, and they were just as battle ready tough.  You could get them with a solid front axel, 4x4, or even with dual rear wheels. You could get them with a conventional  bed, a stake bed, or they were available as a chassis cab. Clearly Jeep was ready to go big time against Chevy, Dodge and Ford. Who remembers the M715 Military Jeep pickup used by the U.S Military?? Those were made from around 1967 to 1969. Did you know a variation of the Jeep pickup was made in South Korea under license from the U.S., called the Kia KM450.
They started making those in 1998 !
You can't keep a good Jeep design down! Of course time marched on, and the Jeep Pickups were refined more and more as a traditional truck. Who remembers the Honcho models, with the bright colored stripes? Those versions ran about 1976 to 1983, (also known as the J-series). You still see them now and then, even after 30 years. Even if the stripes have faded a bit with the Honcho's glory days behind it, they're still a desirable truck to have even today. Alas, the Jeep Pickup story came to an abrupt end. Once Chrysler bought out AMC in 1987, that was the nail in the coffin. Dodge already had a pickup truck, so the Jeep version had to go. "Hey, it's been nice Jeep, don't let the tailgate hit you in the bottom on the way out". But vengeance might be sooner than you think. Once again the rumors are gathering steam, and we may see a Jeep Pickup soon. Not built on a Dodge truck platform, but a Jeep platform, probably the JK chassis. Rumors put it at around 2016. But then, there isn't much visual evidence to with this tasty rumor so far, so don't start offering to move your brother in laws furniture just yet. As Jeep folks, we've been down this road before. What do you think?