Smittybilt Overlander Tent Awnings and EPS Inverted Generator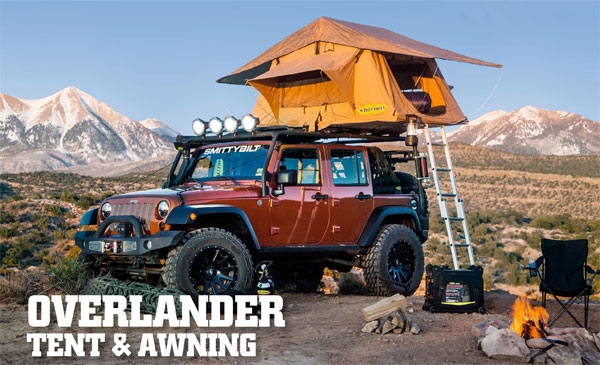 Camping and Jeep's have been together since day one. Once the war was over, and the small vehicle that won the war was available for the public with the first CJ's, camping trips were a big part of exploring America. Smittybilt keeps the camping life alive with two new products to make your off the grid life more comfortable, practical, and easy on your Jeep. With the hectic life most of us lead in modern times, we don't have the luxury of spending days to prepare for a camping trip. The most we can hope for is to get out of town for the weekend and we want to enjoy every minute we have at our destination enjoying the great outdoors. Spending precious time setting up camp and breaking it down for the trip home is just not something we want to deal with. With that in mind, you want a modern camping experience, one that allows you to set up camp in minutes, and pack it up quickly so you can spend every last moment in camp before you start the trail home.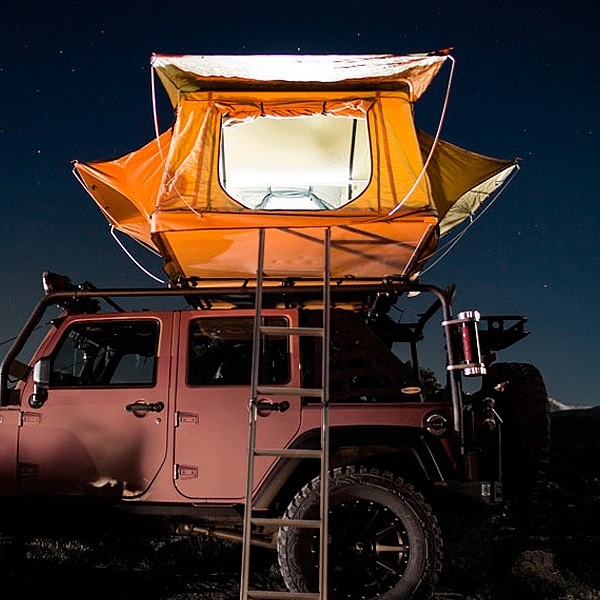 The
Smittybilt Overlander Tent
 is specifically made for your Jeep JK Wrangler. It has a compact size when stored on your roof rack, and it's low profile allows it to be a bit aerodynamic and unobtrusive. Once at your camping site, you can unpack it quickly and easily. Of course, with the entire tent stored on top of your Jeep, that allows you more room inside to carry more gear. The tent holds two adults. It stays on top of your Jeep, giving you extra safety up off the ground, away from animals, bugs, and uneven ground. It also has a 2-inch thick high density foam mattress with a removable cover to keep you comfortable. The tent itself is made of high quality materials, such as heavy duty waterproof 600d rip stop polyester rainfly, The tent poles are anodized aluminum with stainless steel hinges. The Smittybilt Overlander tent includes a waterproof, heavy duty travel bag. The Overlander Tent itself has a large opening on one end for entrance. It incorporates a sunroof with a mosquito net, mesh windows for ventilation to keep you cooler, an interior LED light, and is made out of all seasons waterproof materials. An aluminum later is also included, as well as a 12 volt power adapter.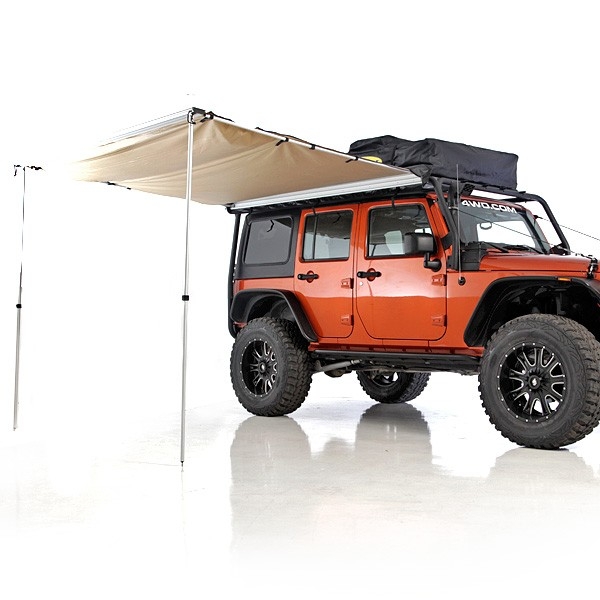 Smittybilt also makes an awning
to give you shade and more protection for you and your camping guests. The larger awning is 8.2  x 6.5 feet. This also attaches to your existing roof rack, and rolls up into a compact, heavy duty travel bag. This heavy duty awning is made of UV-stabilized materials. The arms and legs are self contained, and telescopic, with twist lock poles. The awning even includes stakes and ropes to secure the legs in harsh conditions. The
Smittybilt Awning
is the perfect accessory to their tent, making you outdoors adventures even better, without sacrificing precious time. Both store easily and out of the way. Camping has never been so easy when using the Smittybilt Overlander Tent and Smittybilt Awning. Now you can get to the site and have your tent up in just a few minutes, which gives you more time to enjoy the things you want to do in the limited time you have - more camping, fishing and hiking !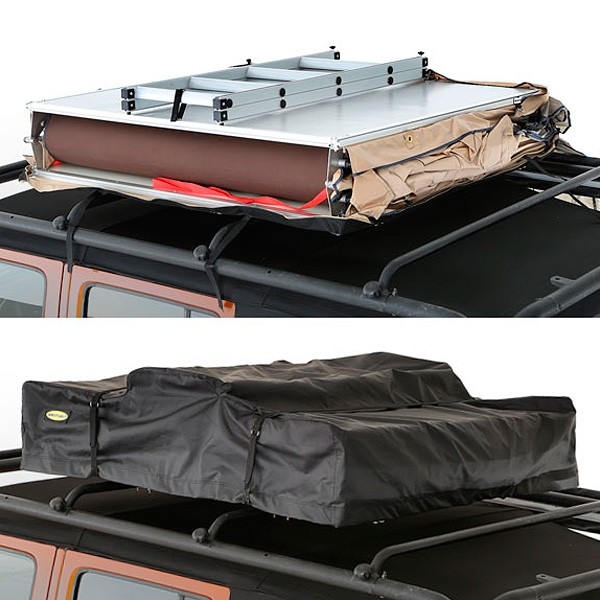 Note:
The Smittybilt Overlander Tent and Awning attach to your existing roof rack. Don't have a factory roof rack? Check out
Smittybilt's Racks
 here at the Morris 4x4 Center and set your Jeep up now for a great Camping Weekend! Want to take some of your home electronic conveniences with you? And save stress on your Jeep battery? Smittybilt has you covered with their compact size
EPS Inverter Generator
. Smittybilt has packed huge power in a small mobile package. It's a CARB approved 4-stroke (no fuel to mix! Less exhaust emissions!) OHV gas engine. It can run at varying speeds with a "Smart Throttle", so it's versatile to your energy needs. It features dual 120-volt VAC outlets, and a single 12-volt DC outlet. It has overload protection for your sensitive electronic devices. One important thing about this EPS Generator is it's designed to have a low noise impact, running 56-63 dbs. Nothings more annoying than listening to a loud generator while trying to enjoy the mountain scenery. The power output 2600w max, with a 2300w continuous output. The Smittybilt EPS Generator includes a wireless remote to start it up, which is good for up to 40 feet. Now while you don't even have to get out of your Smittybilt Overlander Tent to start the generator!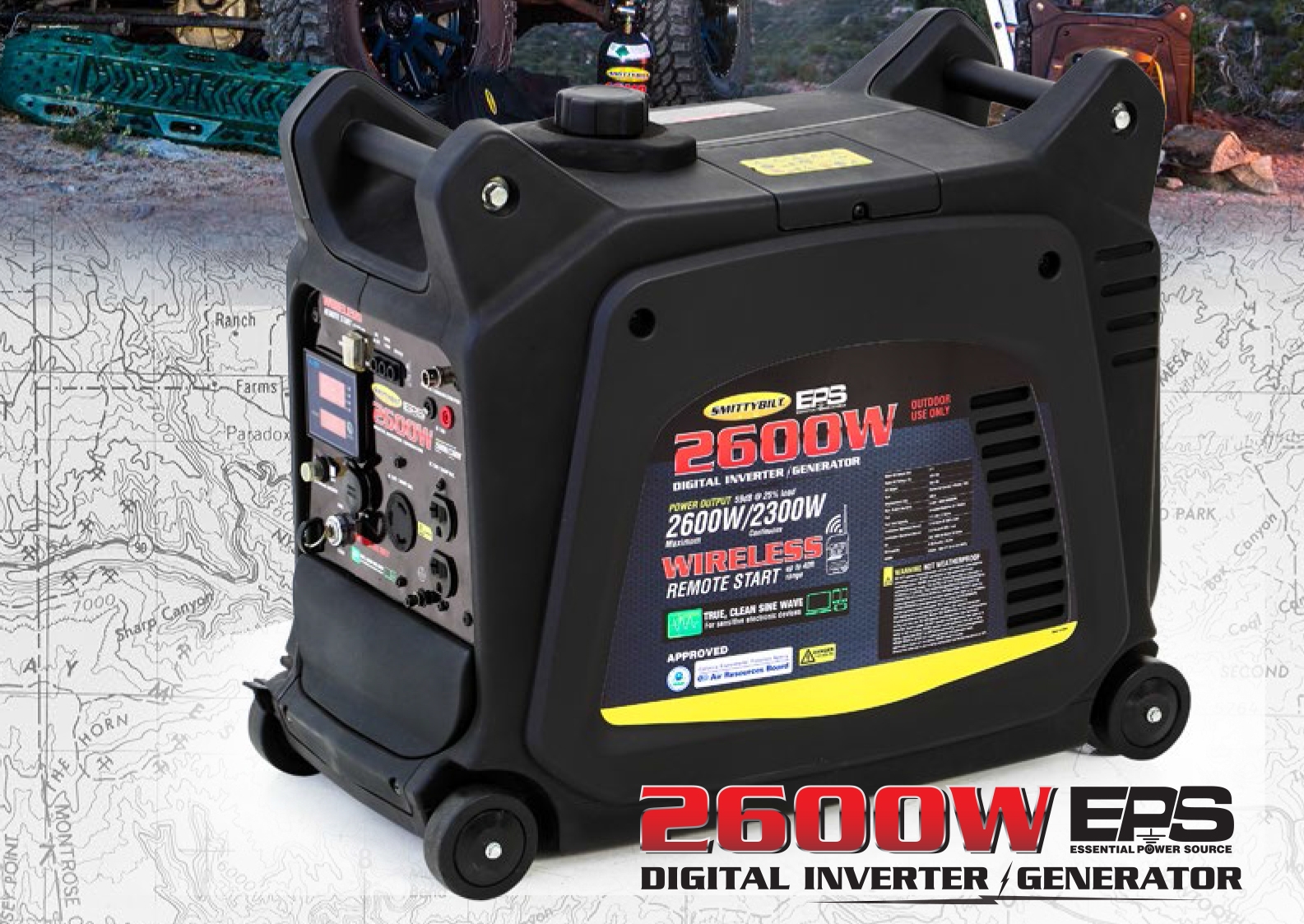 All of these Smittybilt products are great additions to your Jeep gear, and chances are, you will find yourself camping a lot more often than you ever have before. But isn't that a good thing? Don't spend time packing and unpacking, and folding up tents. Get to the mountains and lakes, get some fishing and hiking in, and be ready at a moments notice. Start living the Smittybilt life, the Camping life -  now!