Jeep Wrangler 5th Tire Alternatives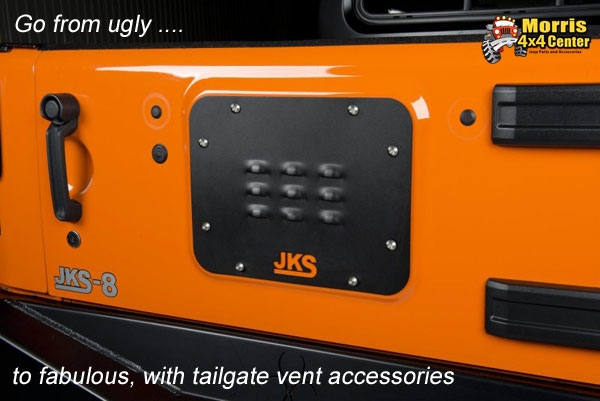 If you ever want to have a deep discussion about changing something on your Wrangler, just start the topic with, "Keep the spare tire on the rear? Or drive without it?". Get ready for a few hours of flame throwing, because there will be 100 different ways to approach that problem and a flame retardant suit won't help make a final decision. Keeping the spare is easy. Your Jeep already has the mount and whatnot bolted on, and the spare's already hanging off the back end, so if you go that route, you're free and clear. Nothing to do but sit back and look at it. Mission accomplished.
But
,
if you're gonna remove the spare and try to free up some ugly off the back of your Jeep, get ready, because there's another 50 different options you can do that tail end that just saw the light of day. Lets start with the basics. You can call it many things: the "spare tire delete plate", or the "license plate relocation panel", or a "
optional third brake panel
", even a "tailgate vent plate", or a dozen other trick names. In the end, when you removed the spare tire carrier, you now have a spot on your Jeep that needs some TLC attention, because it just doesn't look right. Not even that, it's not FUNCTIONAL. The backbone reason of a Jeep accessory. So what do do? Let's say you want to relocate the license plate. You know, with this bare back end, the plate is over to the left and, well, it looks a little "off balance". Not very feng shui. Sticking it in the middle not only looks good, it's less likely to get messed up and spangled on a trail ride. Fortunately, we carry several kits to relocate that license plate smack dab in the middle to get your Jeep looking like a the GQ of Jeeps.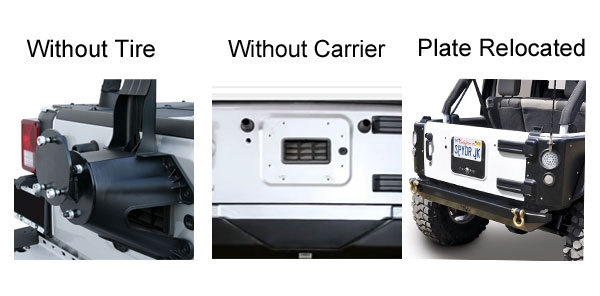 Don't want to relocate the license plate? How about using that space as a mount for your CB antenna? We carry a few of them, and the mount will put your antenna in the middle of the tailgate visually, and out of the way of other gear you might have mounted on the backend.
Rancho makes one
, as well as
Teraflex
. Of course, even if you use a license relocation plate, you don't have to mount a plate on it. Many of the covers look good by themselves, such as these
Poison Spyder Tramp Stamp covers.
 You have to admit, those are pretty cool looking. Warrior Products makes some as well,
in Diamond Plate
, or
smooth Polished Aluminum
. The Or-Fab Gecko one is nice too. Once the plate has been relocated, you will want to use a plastic plug to cover and smooth out the look. It will pop into place, and can be painted to match your Jeep if desired. Some companies offer the option of covering the entire rear tailgate, to get a better finish and a rugged look. For instance, 
Warrior makes a Black Steel Tailgate Cover
.  It covers not only the tailgate, but the vent as well, and smooths out where the rubber tire carrier snubbers were. You can also get them in 
Diamond Plate
.
---
---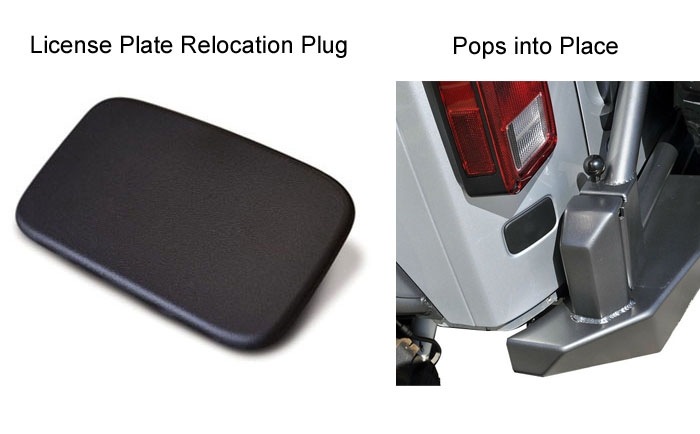 Note that when you remove the tire carrier parts, you will also have three rubber snubbers sticking out from the tailgate. They're not very pretty. But you can pop those out, and add plastic plugs to make the look flush. You will need two plugs that fill a 5/8" hole, and one that fills a 1" hole. Most of the license plate relocation kits include them, but if not, you can source them from a local hardware store.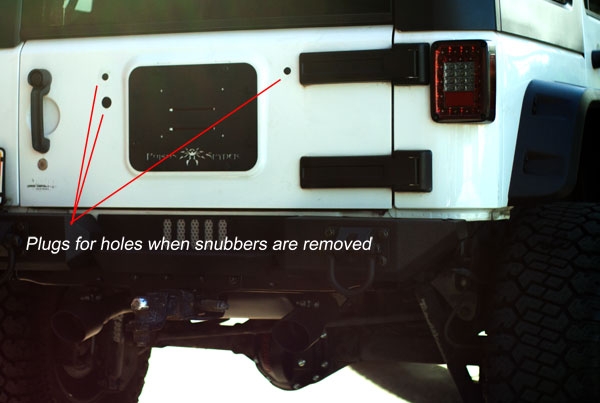 A few companies offer third brake lights you can use in that spot as well. These can give a little extra safety, and makes use of the space.
Warrior Products makes one
. So you as you can see, if you remove your tire carrier, and ditch the spare, there's quite a few options to making that small vent space some valuable real estate. To not only make it look good, but make it functional, like any great accessory on a Jeep. And we carry them all here at your favorite place for Jeep parts,
Morris 4X4 Center
!
Follow Morris 4x4 Center!
Read More: