Morris 4x4 Center is proud to add
Steinjager
to their ever growing line of quality Jeep parts and Accessories. Their products are developed by performance minded designers, along with some of the best fabricators, to bring you top shelf parts you can depend on. If you've never heard the Steinjager name, you'll definitely want to check out their
Tube Doors
. Made from U.S. steel tubing, with a 1.25" OD .086 wall , the cold formed steel structural tubing offers some protection and durability, plus they look good too! But that's not all. You can get them in a variety of
pre-colored hues
to match your Jeep, or just to spice your ride up to fit your style.
Getting Steinjager Jeep Doors In a Variety of Colors
The hot colors for now are
Fluorescent Orange
,
Gloss Black
,
Locas Green
,
Lemon Peel
,
Military Beige
,
Neon Green
,
Pink
,
Playboy Blue
,
Red Baron
,
Southwest Blue
, and a
Textured Black
.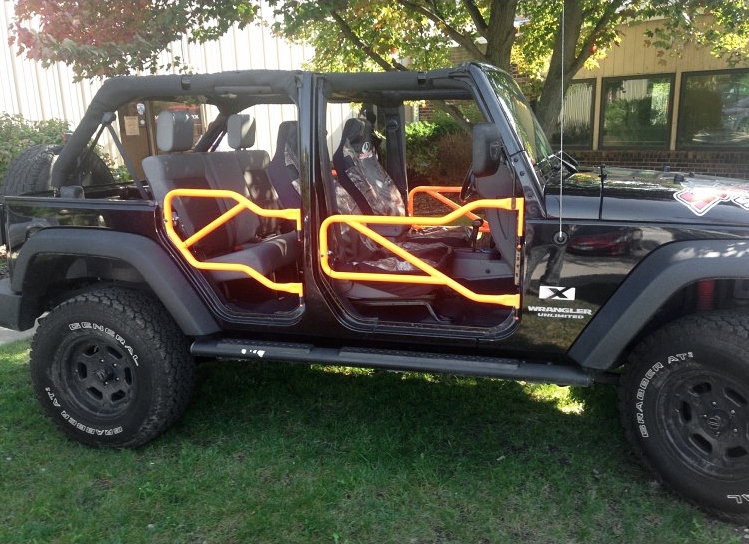 Best of all, these doors are easy to switch out with your stock doors. The
Steinjager Tube Doors
have custom machined door hinges, and the quick release detent pin is held to the door with a weather resistant cable, (to ensure you don't lose your door latch pin). There are also
accessories for the Tube Doors
to make them more comfortable and practical for trailing. Such as
padding
,
mesh covers
, and even
mirrors
. All of these parts are designed to work together so you don't have to mix and match.  The mirrors are a direct bolt on, and use a heavy duty steel bar to mount them so they can take a beating on and off road.
Think about it. The pre-colored doors will save you money on not having to paint them. Which makes these tube doors a great bargain!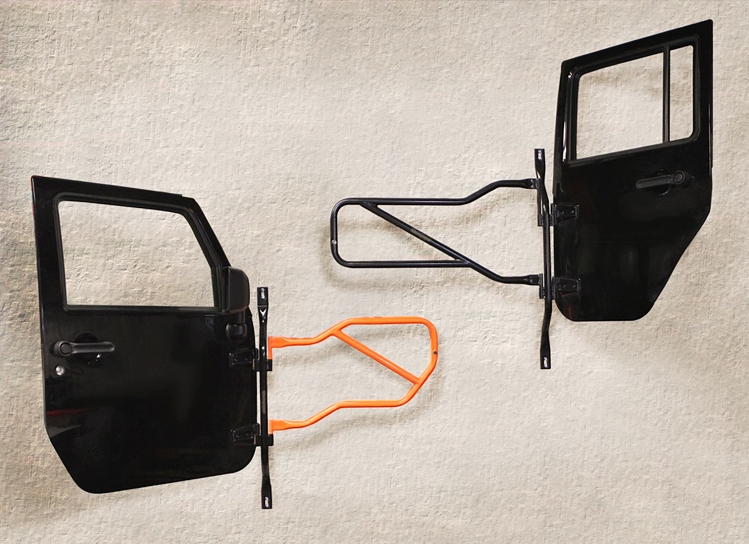 By the way,
Steinjager makes  a door hanger
for your stock doors when you have them off and the tube doors on. You can mount this in your garage, so in seconds, you can store the doors safely, sturdy, and out of the way. Is that cool or what?
Stability and Suspension from Steinjager
But Steinjager just doesn't make accessories. They are make the hard core parts you depend on. You can outfit your
Jeep Wranglers
with their steel
Upper Control Arms
and
Lower Control Arms
. They offer
adjustable front
and
rear swaybar links that are adjustable
.

Their
Endlinks are adjustable
as well, and allow for a quick disconnect. Which are the perfect companion piece to their
adjustable swaybars
. Looking for a Jeep Trackbar? Steinjager has one of those that's adjustable too. Now you can get that suspension right where you want it with tough
Steinjager Suspension parts
! If you want to adjust another couple of items, hook up with these
Steinjager Adjustable Hood Latches
. They have a bright polished chrome finish,and will keep your hood tight and help with less fluttering. And while you're installing those, don't forget the ever popular
Steinjager side Mounted Can Caddy
. Sweet ! (Remember to get two! or four if you have an Unlimited!) Now you can get Steinjager products right here ...  at the best prices! See ya on the trails!