Survey Says - Jeep Wrangler Most Loved Vehicle
Ask anyone about what they drive, and in many instances, they will say it their favorite kind of car, or the best truck they ever have. People get attached to their vehicles. However, according to a consumer study from a California consulting group; the American made
Jeep Wrangler
 is one of the most loved vehicles in the U.S.A. Also, for more icing on the cake, The Men's Journal reports that the Jeep Wrangler is the number one most popular off-road vehicle. Of course, that does not surprise us. Nearly anyone can go down to a dealership and by a cookie-cutter car, and they will not have any idea of what they bought. They will not be looking under the hood, they do not care about the drivetrain, and in most cases, they will not care about the color. Even it is an ugly shade of battleship gray. However, Jeepers are a whole different breed. They are looking for a thoroughbred. They want to know everything there is to know about the Jeep they are going to buy. The engine size, what the axles are, drive ratios, tire and suspension setups, and options, special editions availability. Jeep buyers are educated in the ways of the 4x4.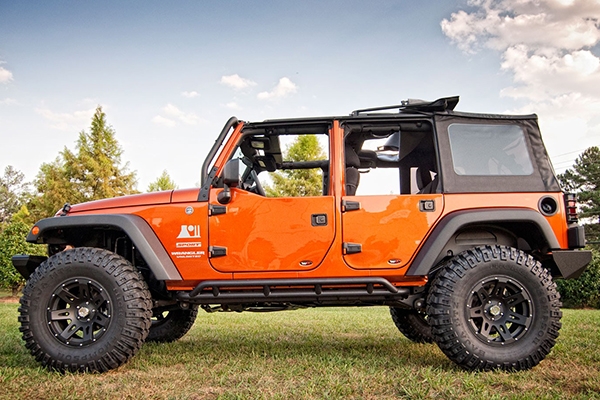 So it is easy to see why a Jeep is going to be a most loved vehicle because it is probably exactly what the Jeep buyer wanted when they chose one from stable. Plus, you are starting with the best of the best, the top of the food chain. Moreover, how can you not love a Jeep?
Jeeps Wranglers are popular worldwide. Everyone likes them!
Jeep folks wave to each other - universally!
Jeeps can go places no other vehicle can!
There are thousands of accessories for you to customize your Jeep!
Jeeps are fun! At the lake, on the trails, camping, and on the beaches!
If you meet another Jeeper - you are instantly part of the family!
Jeeps are made in the U.S.A.!
We do not need a special report to tell us. Jeep owners love the Jeeps.  If they had called us, we could have told them that years ago.