Synergy MFG Jeep Parts Now Available at Morris 4x4 Center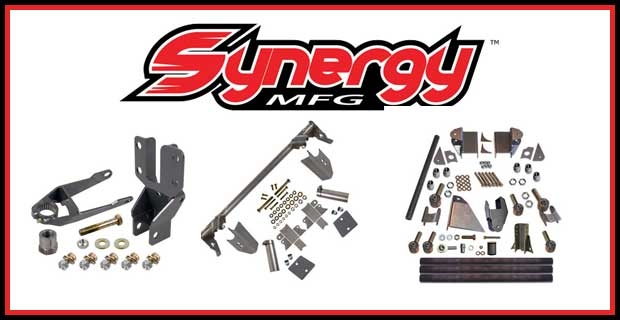 Synergy Manufacturing has teamed up with Morris 4x4 Center to bring you some awesome new Jeep products at some great prices!
Synergy Jeep products and systems
have been designed by special engineers with over 10+ years of suspension design experience in the off-road industry. Not only are their products state of the art, but they have been severely tested by Synergy themselves around the world, including the Hammer Trails in Johnson Valley, CA, numerous trails in the Sierras of Northern California/Nevada (Rubicon, Fordyce, etc.), the Slick Rock of Moab, deserts of Southern California/Baja, Mexico, and Australian Outback just to name a few. These guys get around ! This means, like you and us, they're hard core Jeep people! The Morris 4x4 Center is proud to add Synergy to our growing list of high quality products our Customers demand, and deserve. With their coverage, we carry a wide selection of something for Jeep owners everywhere. Let's spotlight just a few of their great Jeep products:
Axle Seal Kits
Axle Gusset Kits
Track Bar Brackets
Brake Line Extended and Relocation Kits
Grab Handle Sets
Skid Plates
Heavy Duty Ball Joints
Steering Tie Rods
Steering Stabilizer Clamps
Adjustable Steering Column
Drop Pitman Arms
Shock Relocation Kits
Bump Stop Spacer Kits
Coil Spring Spacers
Coil-over Conversion Kits
Lift Coil Springs
Leaf Spring Bushings
Adjustable Control Arms
Hood Pins
Swaybar Links
Track Bars and Track Bar Parts
Shock Mounts
Spare Tire Relocation Brackets
Hub Centric Wheel Spacers
Onboard Air Compressor Brackets
Fire Extinguisher Mounts
Large Selection of Universal Brackets
We don't mess around do we? Neither does Synergy Manufacturing. They offer a lot of different parts to let you modify your Jeep any way you want to. If you need to relocate something, adapt something, or fabricate something, they probably make a kit or bracket to get the job done right, with a part you know can take a beating and survive. Be sure and check out the full list online of all the Synergy products. Tired of breaking sub standard parts and brackets? Step up to Synergy MFG. If you're building a Jeep or putting one together in the future, we feel you'll find several products that will make the build go faster and easier. Not to mention that you know it's a dependable part, well engineered, and made to get your Jeep in the best position it can to off road with the big dogs. Synergy Manufacturing and 
Morris 4x4 Center
. Now that's an unbeatable team up!