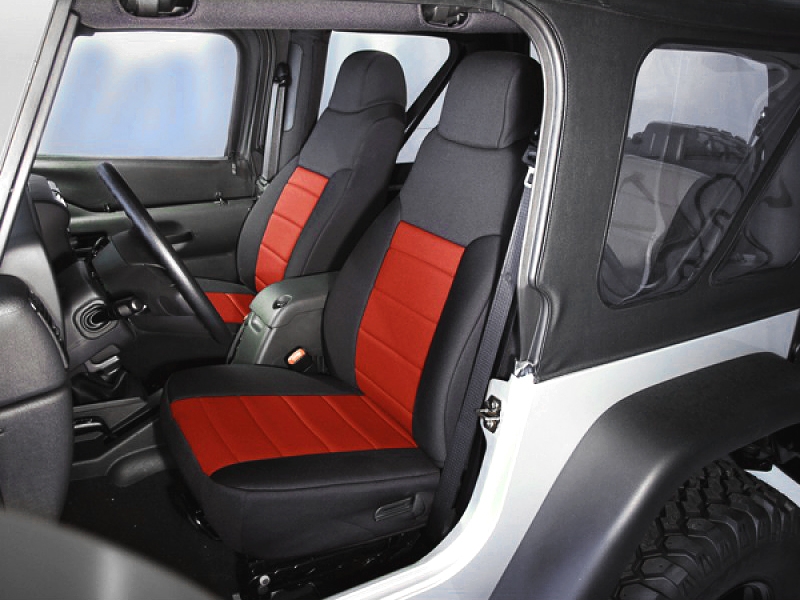 Your Jeep interior takes a lot of abuse, especially the seats. Making sure you find and use the best Jeep seat covers to protect them is essential. In this review, we'll break down a few of the best seat covers for Jeep Wrangler that you can start using immediately.
Why Your Jeep Seat Cover Is Important
Jeeps, unlike most vehicles, are meant to be used hard. Not just tooling around the neighborhood, shopping at the grocery store, or going out for a drive on a Friday night. Jeeps are for going anywhere you want to. The mountains, trails, the beach on a sunny day, fording a river, rock climbing. No matter what the weather or time of year. Owning a Jeep keeps you BUSY! And running with the top off leaves your Jeep seats especially vulnerable. We carry a wide variety of seat covers to protect your Jeep and your derriere'. Not just from rain, because you know that's gonna happen all the time, but from UV rays from the sun, from ice and snow, from dirt and debris, even mud. Have you been thinking about some seat covers? Let's take a look at some popular options for your Jeep.
What's Up with Neoprene?
First, let's dive in and mention Neoprene Seat Covers for Jeeps. Neoprene is a fancy word for the synthetic rubber material that wetsuits are made of. It's a real space age material in that it has useful characteristics. (even though, it's actually been around since about the 1930s in one form or another). It's very flexible, resists degradation, and is very tolerant of extreme conditions. (almost like a Jeep, eh?!). With something this tough and durable, it makes a positive addition to the material in a seat cover. Allowing you and your passengers to have long lasting seat covers that can can take all kinds of weather and abuse, year after year (way more abuse than your stock seat material can handle). Obviously,
Jeep owners who drive topless
, or with just a sunshade or bikini top, need and use seat covers the most. This means we sell a lot of them for older Jeeps, just as much as some of the newer ones, maybe more.
Is Getting a Jeep Wrangler Seat Cover Worth It?
There are a couple of other reasons to use seat covers, even if your Jeep is brand new. If you want to protect your new Jeep seats from future wear and tear, a seat cover is a great way to do that, and keep your original seat material looking good, even after years of use.
Some seat covers can be washed or cleaned (unlike a stock seat). Take the cover off, wash it, and then reinstall it. Imagine what your stock seat would look like in a few years if you couldn't clean it that well? Yikes. Sure, they tend to be less money than buying an all out new seat. But if you had seat covers on your new Jeep, your original seats might have lasted longer. Let's look at some popular seat covers for Jeeps that our customers like.
Jeep Wrangler JK Common Seat Cover Applications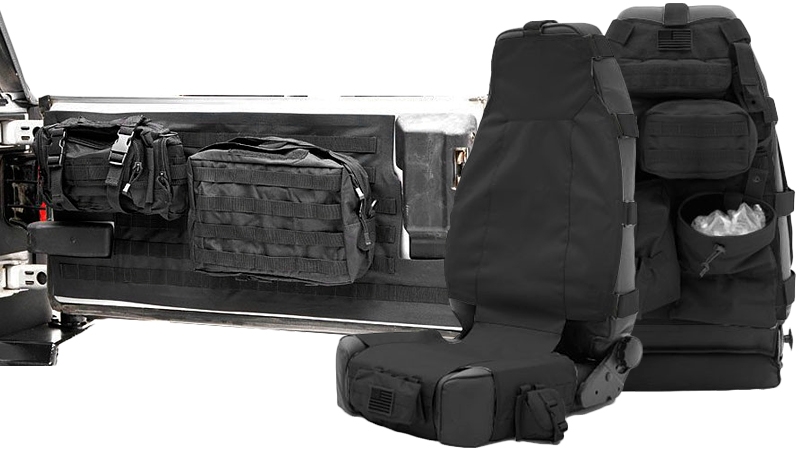 The most popular covers for the JK Wranglers are the
Smittybilt G.E.A.R. Front Seat Covers and Tailgate Cover (Part SB-5661001-JK)
These covers are like the kitchen sink and then some. They not only do all the traditional seat cover duties, but feature storage pouches to store all that gear that you need in your of road life. Cell phone, laptop, survival gear, snacks, water, flashlights, kids stuff, fishing gear, hunting gear, tactical gear, spare Jeep parts (seriously). You not only get a great set of covers for the front seats, you get a cover for the tailgate to protect and store even more stuff! It's no wonder this is a great combo, and a best seller!
Another hot set of covers are the Trek Armor Supreme Front Seat Covers (part TAJKSC2013FPBB). These seat covers are known for having a nice, tight fit. They are also very durable, and made from a waterproof backed Polyester material. Made in the U.S.A., they  feature a rear zippered pocket,  and two extra external bags, to attach to the back wherever you want to. That set is all back, however, you can also get a pair of Trek Armor Supreme Front Seat Covers, in Black and Graphite, colors if you like the two tone look (Part TAJKSC0710FPBG ). Or, if you're more partial to Red and Black, check out the Trek Armor Supreme Front Seat Covers Part TAJKSC2013FPBR.
---
Jeep Wrangler TJ Seat Cover Stylings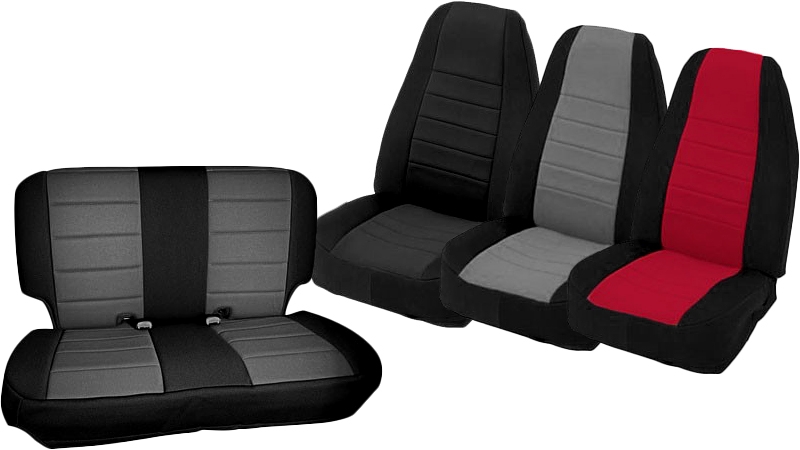 If you're running a
Jeep TJ
, you want to hook up with the
Smittybilt Neoprene Seat Covers Set, Part SB-471201
. This set fits the the front and rear of your Jeep TJ. These covers are made from 100% breathable neoprene fabric for durability and comfort. For just a few dollars, you can have your seats looking new again in minutes! If you like the red and black combo colors, see the
Smittybilt Neoprene Seat Covers, Part SB-471230.
It's the same great neoprene material, but with more vibrant colors. (the black and tan ones are
Part SB-471225
).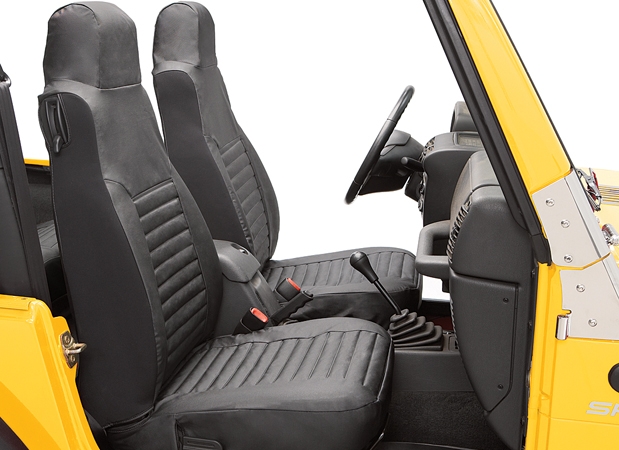 Take a look at
Bestop's Hi-Bucket Seat Covers (Part 29226-15)
. These are designed to specifically fit the TJ seats (not universal!). The covers are made from a premium vinyl fabric for long lasting use, and not only that, they look great too!
---
Seat Cover Fittings for Jeep Wrangler YJ
For the Jeep YJ Wranglers, a popular choice are the
Smittybilt Neoprene Seat Covers (Part SB-471122).
This set has the black and charcoal two tone look, and includes covers for the two front seats and the rear seat as well. No matter if you're just looking for protection, or want your old seats to look like new, this is a classic and very popular set. Don't forget that Bestop makes some pretty darn good seat covers for the YJ Jeeps as well. Their
High Back Seat Covers (part 29224-15)
, made from black denim material, are tough and ready for the trails. At this low price, you can't afford to pass up on these covers!
---
CJ Series Seat Covers
We've carried seat covers for CJ Jeeps for decades, so you know we have what you're looking for. The
Smittybilt Neoprene Seat Covers Set (Part SB-471001),
for the Front & Rear, are perfect for the CJs. They can make your old seats look like new, but also, protect your originals from daily use. Whether you drive a restored CJ, or one that's been to the roughest mountain trails and back, these covers are great to use. We sell a lot of these particular ones for the CJ's and their a set of Customer favorites. Just as a note, we carry many Jeep seat covers from trusted brands such as 
Bestop
,
Corbeau
, and 
Coverking
. So we have the kind of Jeep seat covers you're looking for. An easy way to look at seat covers is by color, and it's fun to do. If you're looking to spice up your rig to match your style, try these popular Jeep Wrangler seat covers:
Camo
Tactical OPS
Red
Blue
Tan
Charcoal
---
Remember, if you have an old Jeep where the seats need some TLC, a seat cover is an easy way to bring them back to life and make them presentable. If you bought a brand new Wrangler JK and don't want your trail buddies spilling whatever on your seats, grab some covers now and get those seats protected! Stay safe and we'll see ya on the trails!