LEGOs are just as popular today as they were years ago when they first hit the market. When I said years ago, I mean 1949. They are almost as old as the Jeep! The official motto of the Lego company is "only the best is the best." That too sounds a lot like a Jeep philosophy, as the Jeep is the best when it comes to 4x4s.
What if you could combine the two best things? LEGOs and Jeeps?
There are already many LEGO vehicles to hit the toy stores and toy shelves over the years. From Trucks to Ferraris, to Harley Davidsons. Those folks over at LEGO seem to make a good kit out of almost any subject, and there have been hundreds of different packages and assortments with various kinds of blocks over the years. So it is probably about time to finally do the Jeep. Primarily, a Jeep Wrangler Rubicon. Can it happen? Maybe. However, LEGO needs your help.
Vote to Support a LEGO Jeep Wrangler
Over at LEGO Ideas
, new ideas get posted for fans of the brand to look over. This time up? Why, the Jeep Wrangler Rubicon! This Jeep was made from standard LEGO parts, but with some pretty good imagination to get them all into the shape of a Wrangler. The builder of this LEGO Jeep Wrangler went with an all black scheme. With accessories including oversized
fender flares
, seven-slat
grille
, fog lights, bikini
soft top
with side window paddle mirrors. You name it, and it is there. We especially like the way the bumpers were done on this ride.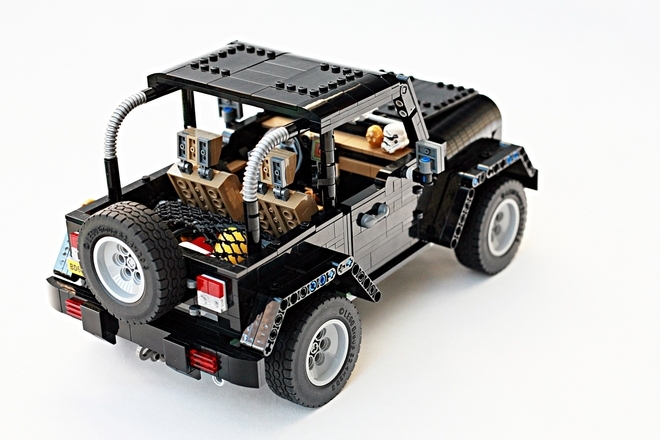 Of course, what's a Jeep Wrangler without a bunch of gear? It looks like this Jeep is already packed up for the beach. A couple of dashboard accents, a GPS center Nav unit, and it even has an engine. So how do we get to see these Jeeps in the toy sections of our favorite stores? You have to choose it from the entries for new ideas and place a vote. There are a couple of other entries, but don't be discouraged. There are 597 days left to vote. Plenty of time! It looks like a new LEGO idea has to get 10,000 votes to be a leading contender, but the Jeep Wrangler is well on its way with your help. From there, it needs approval from LEGO, and then it is on to possibly be produced. So spread the word. Get you Jeep crew to vote for LEGO Jeep we all want!