Weathertech Floor Mats and Cargo Liners at Morris 4x4 Center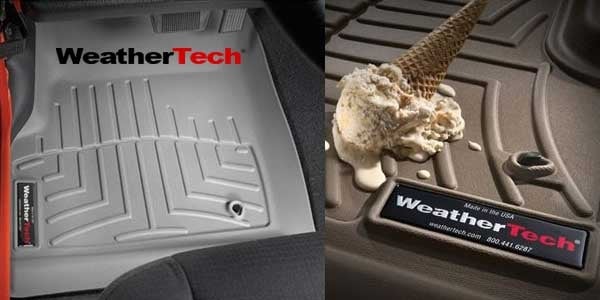 Keeping your Jeep nice and clean on the inside isn't all that easy. It's not like driving a car in the city. You have to contend with snow, water, rocks, mud, and the occasional fresh steamy cow paddy. Let's face it, it's not an easy life for your Jeep interior. But you can ease some of that pain with new Weathertech floor mats from your favorite Jeep parts store, Morris 4x4 Center. These are nothing like the cheap, generic, "one fits all" mats you've seen before. When a floor mat company starts using words like "digital" and "laser measurements", you know you're on to some quality engineering. Let's look at some of the special features of a
Weathertech
floor mats:
A patented extruded composition, which allows for a rigid core for strength.
The FloorLiner advanced surface design has channels that carry fluid and debris, away from shoes and clothing, into a lower reservoir.
The lower reservoir uses additional channeling to minimize fluid movement while driving.
Once fluids become trapped in the reservoir, they are easily removed from the WeatherTech FloorLiner over the door sill.
Digital laser measurements of the interior surfaces offers a consistently perfect fit, specifically for the vehicle application.
Manufactured from a resin called Thermoplastic Rubber.
Made in the USA
Cleans easily with mild detergent soap and water.
Produces Cargo Mats as well.
You know what it can be like changing a floor mat, especially if it's not really made for the vehicle. It moves around while your driving. Maybe your foot gets caught on it (not good!). It curls up on you at the ends. It doesn't last. You had to trim it or make it fit. It fell apart the first time you cleaned it. It's an endless list of hassles for a Jeep owner. You have more important things to worry about. At
Morris 4x4 Center
, we believe in quality products for our Customers. We believe you want the right part the first time, at the best price. We believe you want a part that actually fits correctly. That's why our Weathertech floor mats are some of the most popular mats we carry, year after year. Customers love them. How are your floor mats looking now? Go outside and take a look. We'll be here. You owe it to yourself to get those mats today from
Morris 4x4 Center
, and enjoy your Jeep even more. See you on the trails!