Wild Boar Jeep Products Now Available at Morris 4x4 Center
If you enjoy the outdoors and camping with your Jeep, then Wild Boar has some of the best solutions to get you packed up with extra gear, and the things you love, to get you one with nature. With space at a premium in a Jeep, their products to allow you to bring your favorite bicycle, kayak, and camping goods along with you, and to get the most out of your trips. Let's look at some of their great products: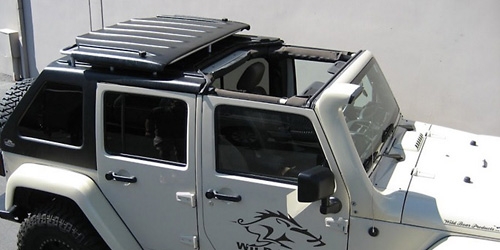 Targa Fastback Hardtop
- Forget about old fashioned sunroofs. Wild Boar's Targa Fastback allows you to pop open the front top position of your Jeep in seconds. Ready to to take in the fresh air and sunshine and enjoy whatever excursion you're on. Their hard top features modern styling and high end construction, but it's practical and durable for everyday use, for many years to come. Of course, their tops incorporate all the latest features, such as UV-tinted Safety Glass, OEM electrical harness connections, OEM rear window wiper, defroster, and washer fluid connections, gas-lift shocks and all of the standard mounting hardware. You can store the Targa top anywhere, but by adding a Wild Board half rack (and everybody needs more rack space anyway, right?), you can store the top in seconds, right on the rack. This can all be done by one person as well.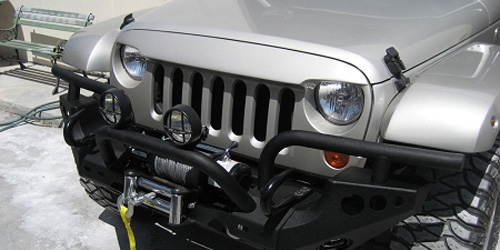 Aggressive Grille
- Sometimes you want to add some new style to your Jeep, but still retain some attitude. The Aggressive Grille by Wild Boar can give your Jeep that custom design you're looking for. While they add some eye appeal, they are practical too. Giving you more intake air flow volume, and better aerodynamics. The grille bolts up to the stock location points, so installation is no problem. It can also be primed and  painted to match your vehicle. The grille is made of tough durable automotive grade plastic material that's been trail tested.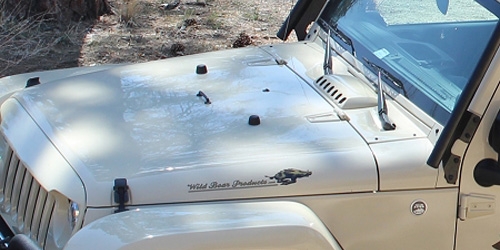 Low Profile Air Scoop
- Wild Boar's custom designed air scoop allows significant more air flow for your Jeep. It has a low profile modern design that makes it not only great looking, but a functional accessory for your ride. It also makes a good match for the Aggressive Grille, but on it's own, once your Jeep friends see you have one, they will want one too. The Air Scoop can be primed and painted to match your vehicle, or one is available in black. Both are made of tough polyurethane materials.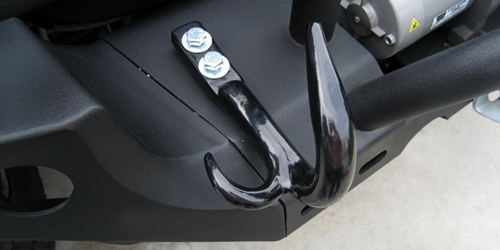 Heavy Duty Tow Tusks
- Wild Boar Tow Tusks are a double hook, no slip tug design, rated at a 9000lb capacity. They are specifically designed to be used with the Wild Boar Modular Bumpers, to give you confidence against tug slipping while using recovery gear. But they can be used on other bumpers as well.
Low Profile Snorkel
- Continuing with their modern designs, Wild Boar makes a low profile Snorkel to keep you ready for some river wading at any given time. It's slim line means it minimizes obstructing your line of sight. It's made to look factory, but allows enough air flow from stock to modified Jeeps, even if you have a V8. As with their other high quality products, the Snorkel can be primed and painted to match your Jeep.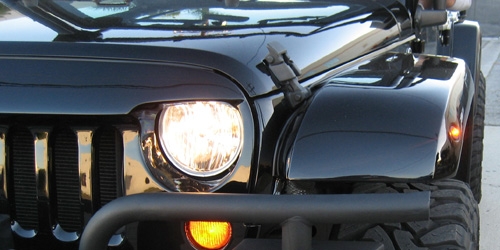 Fender Flares
- It's natural for Wild Boar to add their own design techniques to their Fender Flare lines, giving your Jeep the total package look to match their Grilles, Air Scoops, and Snorkels. These flares are two inches wider than a stock flare, allowing your more room for larger tires, up to 35 inches on a stock height vehicle. Of course, they also protect the body of your Jeep from harmful rocks and debris. They install using stock location points, and some minor drilling. These can be primed and painted to match your Jeep. Once in place, they almost look stock, without giving you the Frankenstein aftermarket fender flare look. This is all about the right style, but with functionality. There are a lot of companies out there that specialize in parts made for Jeeps. But Wild Boar is here to bring you function, modern style, and a fresh new look at customizing your own Jeep. Don't have your vehicle end up looking looking like Jed Clampett's Oldsmobile truck with every country tack on accessory you find. Breathe some fresh air and get some style ... Wild Boar style!