The next breed of the Jeep Wrangler will be heading out of the barn missing a few things. One of them being the fold down windshield. That won't be an option anymore, standard or otherwise. But as time marches on, it's possible (and rumored) that we might get a few new things for the next generation Wrangler that will be a consolation prize of sorts to diehard Jeep fans.
Jeep Wrangler with New features?
There have been rumors about the roof changes on the next Jeeps for a while now. Originally passing around that the hardtop might be permanent. As in - not removable -
as you can do now on current models
. But more recent rumors talk about several different kinds of top features. So even if the top is integral to the body, you might be able to still at least get some fresh air and some rays at the beach. One such possibility is a POWERED soft top. Similar to a convertible car, the top would fold down, or at least become smaller, at the touch of a button. That might be handy when a quick sun shower hits out of the blue. Another tasty rumor? Like a blast from the 1980s, we're going Back to the Future! That's right baby - the Sunroof is back in style! How about a
big glass view
of blue skies and the midnight moon? You just might be able to relive your younger years with a Jeep Wrangler sun roof. Hopefully, the seals won't leak like they did in the 1970s and 1980s. Those will ruin your wife's dress in a hurry!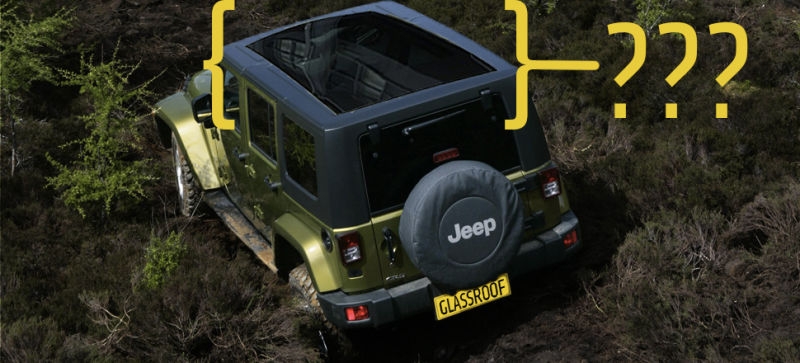 Image courtesy of TruckYeah
Ok, there's one more rumor circling the camp. How about the next Wrangler has a multi-piece hardtop? Oops, we think the JK already has that option. We would call them
MOPAR Freedom Panes
. Unless the new Jeep has a better design, or one with more pieces, or some newfangled ability we've never heard of.
What do you think about the possible roof changes? Which feature would you like best on your new Jeep?
Follow Us!
Read More: