Master Cylinder Bleeding Made Easy
All Jeep Vehicles
Master Cylinder Bleeding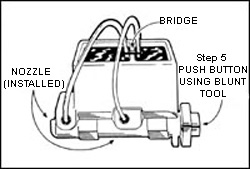 When installing or replacing a master cylinder, it is critical that all air is removed from the master cylinder. This can easily be done by bench bleeding the master cylinder prior to installation.


1) Place your master cylinder in a vise by the mounting ears (not the body). Make sure it is level.

2) Attach a short piece of brake line to each fitting.

3) Arrange the lines so they are SUBMERGED in the reservoir on either side of the wall.

4) Repeat this procedure on the other port hole.

5) Fill the reservoir with CLEAN brake fluid recommended by the manufacturer.

6) Using full strokes, push the piston in, then release. Do this until ALL the air bubbles have disappeared.

Caution: Master cylinder will not bleed properly unless hoses are sunmerged in brake fluid until the bleeding process is completed.

Now mount master cylinder and avoid brake fluid leaking out of front and rear ports during installation.
Courtesy of Stainless Steel Brakes