So how big can you go? Can you really get huge tires on your Jeep? If you have future plans for your Wrangler, especially if you want to hit the roughest terrain and boldest ledges, then we're sure this thought has crossed your mind many times... While you may be rockin' the 32 inch tires today, it's a big leap to go bigger. Sure it looks cool, but is it practical for your driving style and driving needs? Let's look at some aspects of going to larger tires, and what's involved. With the right preparation and planning, it might be easier than you think.
Choosing the Best Jeep Tires
While 32 to 35 inch tires are probably the most common size for everyday off-roading, and can be used with mild modifications to your Jeep. When going larger, your tire choices get a bit more exotic. Do you want a tire that's just for off-roading? Or do you drive your Jeep to work everyday, and need something that's good for a daily driver on the highway?
Mickey Thompson Tires
Mickey Thompson makes a 37-inch tire in their Baja Claw line of tires.  These are good for both on road and off. They also make a 37 and 38-inch tires in their Baja MTZ tire line. Both of these choices are radial tires.
Pro Comp Tires
Pro Comp offers tires in 37-inch and 40-inch in their Xtreme MT2 series tires. These are still good for on road and off road driving, and designed to give you maximum traction when trailing.
Toyo Tires
Toyo tires offers three sizes in their Open Country M/T Mud and Terrain tires. Starting with large 37-inch tires, they also make 38's, and 40-inch tires. These are also a tire designed to work on road and off, so you get the best of both worlds.
Nitto Tires
NITTO offers several 37-inch tires, starting with their Terra Grappler. You can also get a 37-inch tire in their Mud Grappler line for even more bite and traction off road. Then there's the NITTO Trail Grappler, which offers the 37-inch size as well.
BF Goodrich Tires
BF Goodrich steps up to the plate with a range of tire sizes in their Mud Terrain T/A MK2 series of tires. You can get several size choices, including 37, 38, and even 40-inch tires for your Jeep.
Goodyear Tires
Goodyear makes tires, specifically their MT-R  tire line, in 37, 38, 39,  and even a whopping 42 inch size!  With their Kevlar reinforced side walls, and advanced silica rubber, they're  great choice for an oversized tire.
Interco Tires
Interco's Super Swamper Iroks are available in 37-inch and a 39.5 size. These tires are especially popular with off roading enthusiasts.
These are just some of the option on tires. So you do get some choice in the brand you want to run, and even some different size ranges to think over.
---
Modifying Fender Flares to Make Space for Larger Tires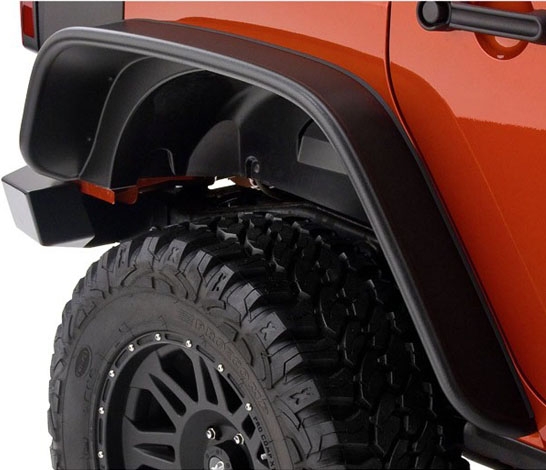 Once you start looking at larger tires, even with a lift kit, you'll need more room for those tires to fit and be able to flex with the suspension modifications you use. Traditionally, this means using a
flat fender
of some kind to give you the maximum amount of room. Several companies make flat style fenders to help fit your larger tire choice.  Most flares usually require some kind of modification, from drilling holes, to cutting sheet metal, maybe even some light welding. These are also available in different compositions, with a tough, plastic type material being the most common. A good example is a set of
Bushwacker Flat Style Fender Flares
. If you want something more substantial,
Poison Spyder makes a set of Crusher Fender Flares
, which are narrow width, and constructed from bare aluminum. There are different widths available in most brands. How wide you want the fender flare to be depends on what you're doing. If you still drive on the street regularly, you may want a wider flare to protect your Jeep from flying debris and rocks. If your Jeep is a weekend only bruiser, a thinner flare will give you more room to flex you rock crawling abilities.
---
Purchasing a Lift Kit for Running Larger Tires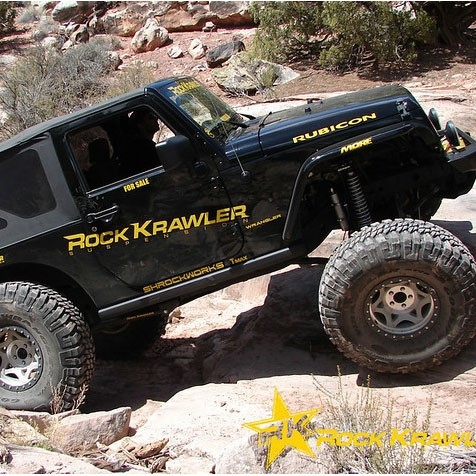 To run a larger tire, a lift kit is needed. Not just a spacer lift, or a mild spring lift, but some serious modifications to your Jeep. Let's say you want to run a 35 inch or taller tire set. Chances are you need at least a 4-inch suspension lift (as a baseline, it won't be true in every example). We have several companies who designed kits specifically for running huge tires (and we're using the JK Wrangler here as an example). The best choice is a
"Long Arm" suspension kit
. These kinds of lift kits feature front and rear control arms which are 40% longer than factory for improved articulation. ("more flex")
Skyjacker makes several long arm lift kits
, and those will allow for up to a 35 inch tire. You can get kits in different ways, such as with or without specific shocks, but the long arm setup is the popular one. If you wanted to go to a 37-inch tire, ProComp makes a
Dual Sport Long Arm Suspension Lift Kit
 which includes Fox Reservoir Shocks. Again, you're using a lift kit that allows you to not just run a larger tire, but gives you the flex you need to put those tires to good use.
---
Upgrading Differentials and Axles for Larger Tires
Using a larger than stock tire puts a lot of stress on the drive train parts. It takes more power and torque to rotate that larger tire. That means, the drive train, U-joints, drive shafts and axles, take the brunt of that force. You need to makes sure those parts have been upgraded to handle the extra load. Stronger differential Lockers, if you don't already have some installed, are a good investment. They help to spread that force more evenly and get all four tires working together to give you more grip. We carry lockers from some of the best manufacturers in the world, including Spartan, ARB, Dana, and Yukon. If you want to replace the axles with stronger parts end to end, look into the
Currie Products
we carry, as well as
G2
,
Yukon
, and
Spicer
. Beefing up the axles insures they can take the hard stress that larger tires can put on your Jeep.
---
Replacement Part Upgrades for Larger Tires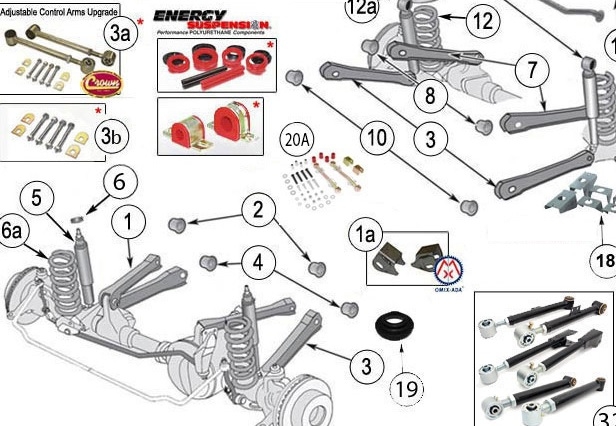 There're also a list of parts that go with the mods to get those larger tires in place, and working with all your other changes. Longer brakes hoses, drop pitman arms, relocation brackets for end links and track bars. There's a multitude of smaller parts to consider to reach your goal. The best thing to do is make up a plan. Choose a tire size that's your goal, and choose the parts that will work together to achieve it. Make sure you have a clear idea of what you want to do woth your Jeep. If you commute 80 miles a day on the highway, big 40 inch knobby tires and a 6.5 inch lift might not be the way to go. You might want to settle with a tamer 35 inch size tire and less lift. Make a list. You can write it down, or maybe just bookmark the various parts on the Morris 4x4 Center website, and get an idea of what will be involved. Check out the PDF instructions we have with the products. Do you have to cut, weld, or is it a bolt on part modification? We also have a handy
Lift Kit Advisor
that works online, and can help narrow down your choices, and give you a quick view of different components. You can input different data to see different results,  it can be quite helpful. So can you get 37 inch tires on your Jeep? Yes you can, if you make a plan ahead of time. And the parts you need to build your Jeep are right here, at the best prices, at Morris 4x4 Center. Be safe and we'll see ya on the trails! .