Difference Between Running Boards and Rock Sliders
When it comes to adding an accessory to your Jeep, the Nerf Bars, Side Steps, Running Boards, and Rock Sliders are some of the most popular upgrades. Which one you use depends on what you're doing with your Jeep. Each of these is different, and sometimes they're a combination of the two, but planning ahead will get you the right setup for your kind of driving and the look you're going for.
Let's start with the old favorite, the Nerf Bar. I'm not sure where the word Nerf came from as far as using them for the bars. The Nerf toys are typically a soft throwing product, but not meant to be harmful. The actual idea of the bars comes from racing. Usually an open wheel car, such as a midget or dirt track car. Nerf bars where used to prevent other race car's tires from getting caught between the front and rear tires. They didn't have to be particularly thick like the ones we're using on trucks and Jeeps today. It was merely a safety precaution. Just enough to bump a competitors tire away from getting the two cars into serious trouble.
From there, in the 1970's (possible the 1960's), pickup truck owners started fabricating their own "Nerf Bars" for much the same purpose. Bolted to the frame, a simple tubular bar with a bend at each end would suffice between the front and rear tires / axles. They were easy to make, and easy to install.
From there, they morphed into a more practical product as a step, so that you could now get into your lifted trucks. Lifted trucks have been around since there have been pickups, but the whole idea didn't grow into a serious niche business till around the time Bob Chandler built his Bigfoot and brought high lifted trucks in to the public's eye.
Your average "Old Style" Tube Nerf Bar usually bolts the frame, underneath the body. Modern Nerf Bars may have a step incorporated into them, or a textured surface to give your shoes more grip. For instance, N-Fab combines features to make a "Nerf Step".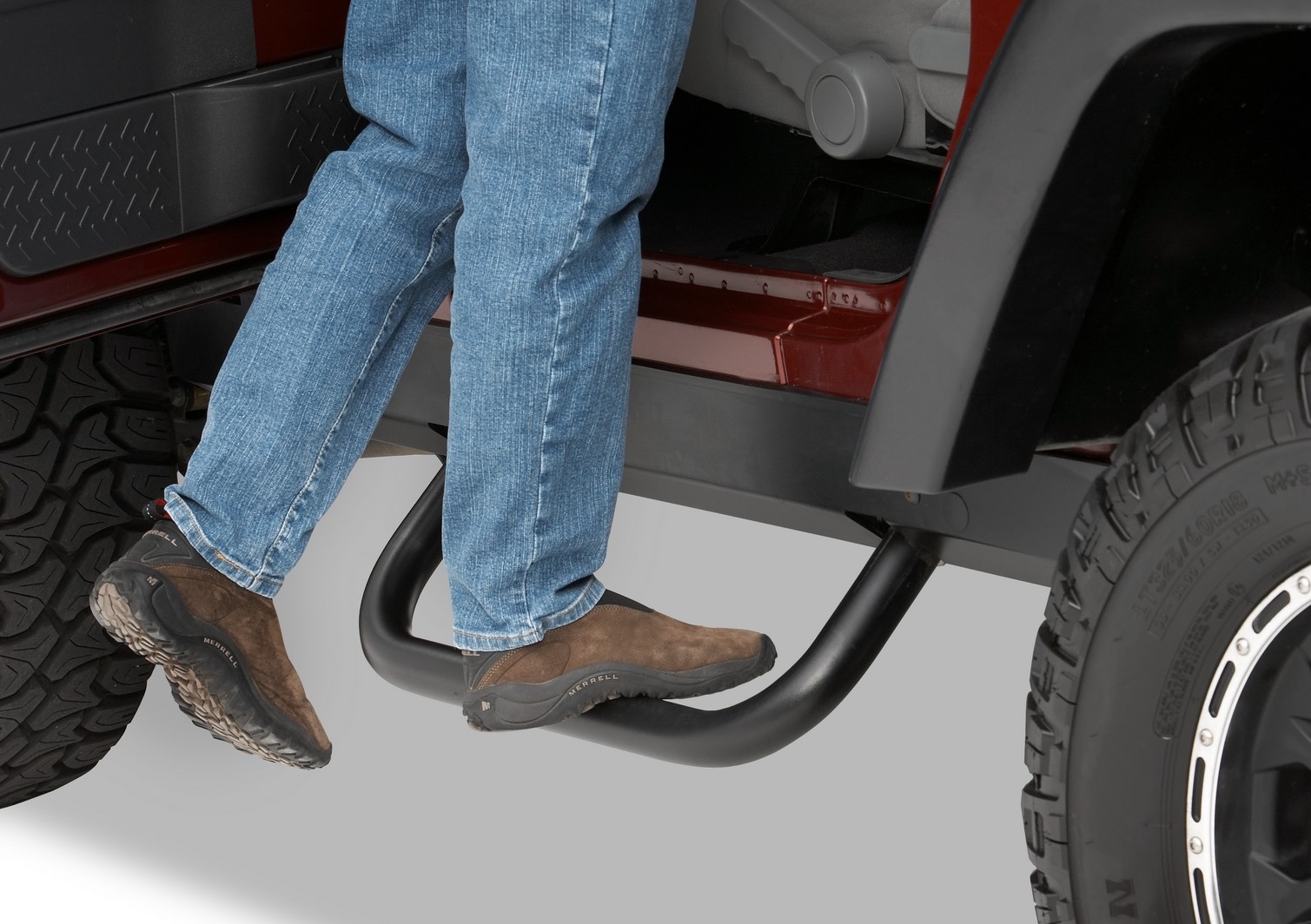 Above Image: This is a cross between a small Nerf Bar and a Hoop Style Step.
Sometimes the products will be a combination of the two. A Nerf Bar could have a rubber or plastic pad built into it's design, or an indentation for putting your foot. It basically does both jobs, it gives you some protection on the side, but helps you get into the vehicle. Another good example is Smittybilt's "Nerf Step Side Bars". We would say that just about covers all the bases!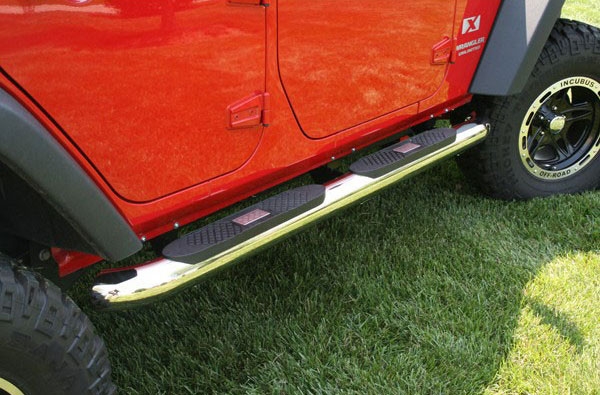 Above Image: This is a more traditional Side Step, with pads for a better grip. It still sticks out enough to do a similar job of a Nerf Bar though, protecting the body's lower edge.
So Nerf Bars, and Side Steps are a very similar product, however you want to describe them. Either term can be correct, depending on how they're made and their function, or what the manufacturer decided to call them on that particular day. Warrior makes Rock Bars that includes different features such as a distinct step, with a Nerf Bar style look and durability.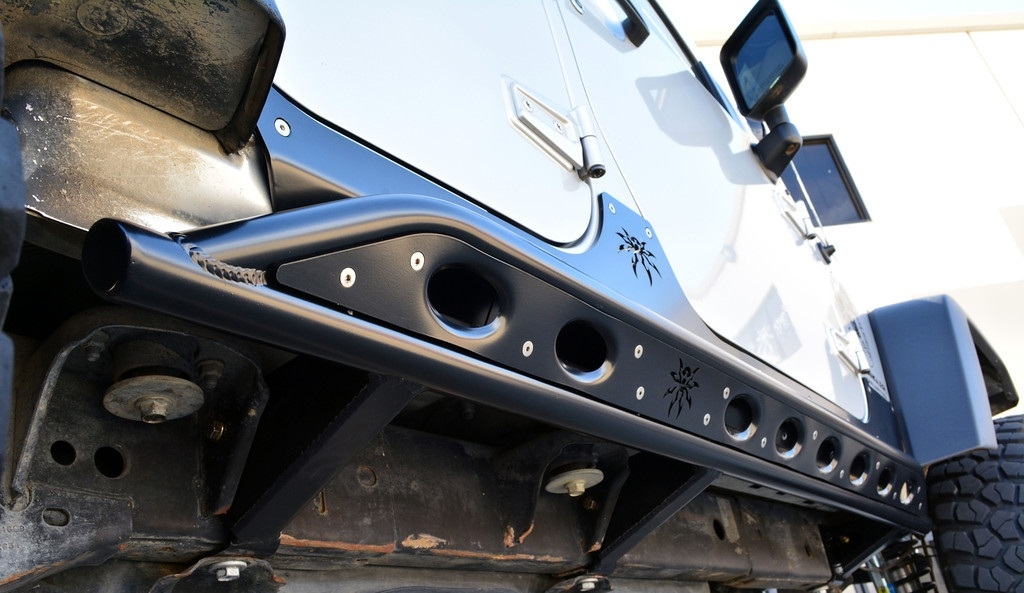 Above Image: This Rock Slider by Poison Spyder offers great protection. This example of a Rock Slider bolts to both the body and the frame, but some may only bolt to the frame, or the body. Note the rounded lip edge to help you "slide" off an obstacle you might otherwise get hung on.
Now Rock Sliders, that's a product that offers a serious function, and goes a long way to protecting your Jeep. Rock Sliders are made of very durable materials. Rather than the under edge of your body getting destroyed on heavy rocks and terrain, if you get hung up, the Rock Sliders take the beating instead of your Jeep. They can also help you "slide" off the obstacle, hence their name. Every scrape and gouge on a Rock Slider is one less tattoo mark on your Jeep. LOD makes some nice frame mounted Rock Sliders. WARN makes some Rock Sliders that bolt to the body. Poison Spyder offers other styles too, their most popular being the "Rocker Knockers". Bushwacker offers a Trail Armor Panel and Sill Plate Combo.
Some companies make products to protect the bottom of you Jeep, such as Rugged Ridge's Rocker Side Panels. But while they offer protection, they would not be able to give you rock sliding capability. A more robust products would be Poison Spyders "Rocker Knockers".
As with most of these kinds of accessory parts, you'll sometimes see some dual purpose Sliders as well. They can have features that make them much like a Side Step, a place to get a foot hold, incorporated right into their design. So you can have some dual action going on where it helps solve two problems at once.
Which one you use depends on many things. First, a Nerf Bar or Sidestep (or a combination of the two) may be needed as a step function, to help you get in to the vehicle. Especially if it's been lifted. These are usually the easiest to install as well. So most home mechanics can tackle them in the drive way or garage.
Looks can be a factor as well. We carry a lot of different styles, in a wide range of finishes (Powdercoated, Stainless Steel, Aluminum, etc), so you may just choose one because it looks great on your Jeep or truck. Regardless of it's function. There's nothing wrong with that either.
If you trail off road, especially in rough terrain, the Rock Sliders are a necessity. No one wants go out and destroy their Jeep. And body parts aren't easy to fix and install. Plus, getting yourself off a giant boulder by yourself sure sounds a lot easier than breaking out the winch and tow straps. In the end, it's all about the protection. That's what Rock Sliders do.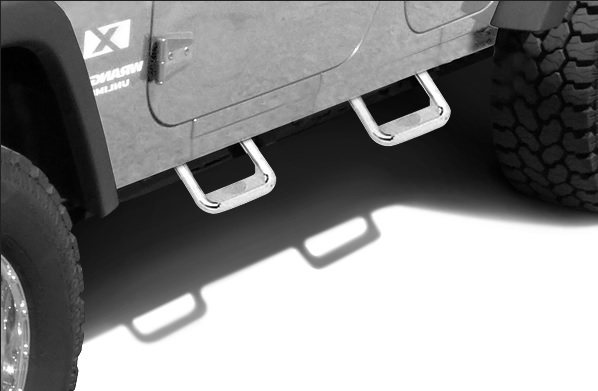 Above Image: Traditional Hoop Steps. Most of these bolt to the underside of the body, but some have braces that can mount to the frame.
There are also some other choices to add between your wheels under the doors, such as Hoop Steps. You see a lot of those on the older CJ's, though they're not as popular as they were back in the 70's or 80's. Sometimes a Side Step will be called a "Running Board", though they barely meet the real description of what a running board is. Running Boards are a product of the old 30's and 40's cars, where you could literally run along side a car, grab the door handle or something else, and jump up on the board between the wheel fenders. (Think Keystone Cops for instance). Custom Vans later had running boards a lot too, but by then, they were used as a step to help get into the high seats that vans usually had. Running Boards usually have a step that runs the full length, from wheel to wheel, rather than just a foot "pad".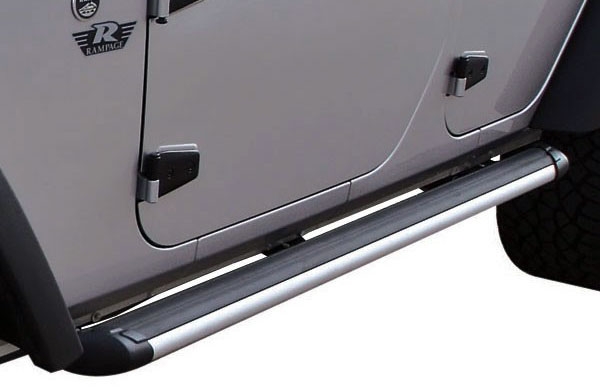 Above Image: This is an example of Rampage's Patriot Aluminum Running Boards. Note that they incorporate the features of a Nerf Bar, Side Step, and Running Board all in one.
Running Boards on a truck or Jeep? They function more as a step than anything else, but tend to be more decorative than a standard Side Step or Nerf Bar. Or they end up a combination, with the same attributes as other bar accessories.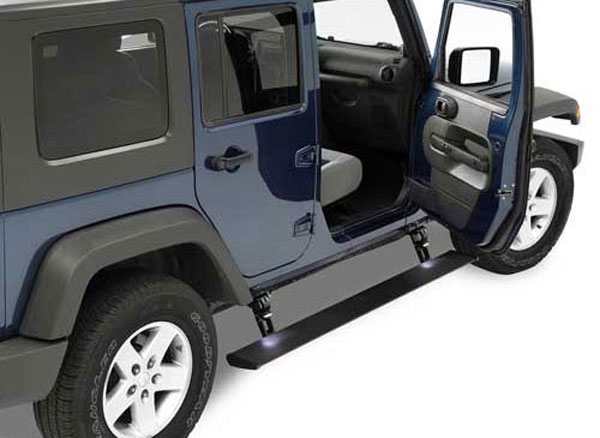 Above Image: The Powerboards, by Bestop, are primarily an electric Side Step. They install / connect to both the body and the frame for stability and function.
Then there are the luxury Bestop Powerboards. These boards typically extend out only when the doors are open to give you a foothold ,and make it easier to step into the vehicle. Once the doors are closed, they retract, so they're out of site (for a better appearance), and can give you more ground clearance. Maybe even better aerodynamics (which leads to fuel savings). While they may seem like just a fancy step, they are usually built with top notch engineering and materials, so they're durable and a high quality product. We also carry PowerStep Running Boards by AMP.
As you can see, you have plenty of options of products to mount on the side of your truck or Jeep. They go by different names, but many of them are essentially the same idea. Providing you with side protection, or a step to help you get into your Jeep or truck, or combinations of all of them. The things is, are you looking for something tough? or decorative? or custom? Is your Jeep an off road animal or a casual cruiser?
Whatever your style, the Morris 4X4 Center has just want to you need to make your Jeep the vehicle you want to drive. Nerf Bars, Rock Sliders, Side Steps, Running Boards, Hoop Steps, we carry them all!
See you on the trails!